By Alan Duke
CNN





(CNN) -- A civil rights group says that unless Congress delays this month's scheduled death of traditional television broadcasts, millions of people -- many of them poor, disabled or elderly -- will see only static on their sets.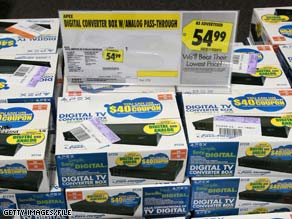 Two federal officials have also called for a delay in the digital television transition.
The House is set to vote again Wednesday on allowing local TV stations to keep their analog transmitters plugged in until summer, to give Americans more time to buy analog-to-digital converters for their older TV sets.
An official with the Leadership Conference on Civil Rights said a delay is needed, but so is more money, after the federal government's fund to give people $40 coupons to help buy converters ran out of money in recent weeks.
"Funding is necessary to extend the coupon program and support local groups to help all Americans get the assistance they need to keep access to free over-the-air television service," said Mark Lloyd, the group's vice president. "We urge Congress to act as soon as possible."
The transition to digital-only broadcasts has been set for nearly a decade, but 6.5 million households, mostly lower-income, that get television signals through antennas have not bought the newer digital TVs or converters for their old sets, according to a study by the Nielsen Co.
People who pay for cable or satellite TV service will be unaffected by the change.
Don't Miss
Those who will be cut off from free TV after February 17 -- barring a delay -- include "often communities of color, people who speak a language other than English, people with disabilities, low-income families and the elderly," a Leadership Conference on Civil Rights statement said.
"Though we're reaching a lot of the people who will be affected by the transition, what we're hearing is that folks are aware of the transition but confused," said Tania Maria Rosario, the group's coordinator for Seattle.
The delay passed in the Senate but was stopped by House Republicans last week.
All local stations will eventually pull the plug on the analog transmitters they've used since the invention of television. The stations have begun digital broadcasts over the past several years
Two members of the Federal Communications Commission sent a letter to Congress last month "to express our deep concern" that they were "nowhere near" ready for the deadline "to pull the plug on television service in millions of American homes."
Commissioners Michael Copps and Jonathan Adelstein called for a delay to give the government more time to get "boots on the ground" to help with the transition.
The new digital signals don't reach some communities now served by the analog signals, the commissioners said.
It was only last month that the FCC opened a call center to help consumers prepare for the analog-to-digital switch.
A delay would come with a cost to local television stations. Keeping their old transmitters turned on would mean a higher power bill and maintenance expenses.
E-mail to a friend

All About Digital Televisions