From Elise Labott
CNN





WASHINGTON (CNN) -- Former U.S. Vice President Al Gore is expected to tell a Senate panel on Wednesday that the United States needs to provide leadership on the world stage in tackling climate change, a Senate aide said.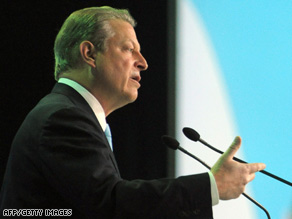 Al Gore speaks before a U.N. convention on climate change last December in Poznan, Poland.
With Senate Foreign Relations Committee Chairman John Kerry focusing a hearing on climate change, Gore is scheduled to tell the panel about the significance of global warming, and new science emerging in the field across the world.
Gore is also expected to stress steps the United States and the international community can take leading up to the negotiations on climate change in Denmark at the end of the year, Frederick Jones, spokesman for Kerry, D-Massachusetts, told CNN Tuesday.
The hearing comes amid a new U.S. commitment to the issue of climate change under the Obama administration.
On Monday, U.S. Secretary of State Hillary Clinton named former Clinton administration climate negotiator Todd Stern a special envoy for climate change and President Obama directed the Department of Transportation to being implement fuel efficiency standards approved last year, but not employed by the Bush administration.
Don't Miss
Kerry issued a statement praising Stern's appointment, calling it "yet another indication that this administration intends to make climate change a high priority and address the issue in a serious manner."
Jones said any climate change treaty would have to come to the Senate for ratification, and Kerry plans to "assert his leadership on this issue."
"I think this is an issue we are going to return to frequently," Jones said.
In 2007 Gore shared the Nobel Peace Prize for his educational and advocacy work on climate change. He shared the prize with the Intergovernmental Panel on Climate Change.
E-mail to a friend

All About Al Gore • Global Climate Change • Politics • Environmental Policy