By Alan Duke
CNN





WASHINGTON (CNN) -- Congress postponed until Wednesday a vote to delay next month's scheduled death of television as you've known it.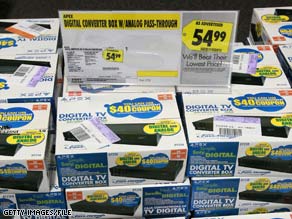 The end of analog television could be delayed by a vote Wednesday.
Senators, worried about the static they'll see when the plug is pulled on analog television broadcasts in the United States, approved the emergency measure by unanimous consent Monday and rushed it to the House floor for a vote Tuesday afternoon. But representatives put off the vote until Wednesday.
The transition to digital-only broadcasts had been set for nearly a decade for February 17, 2009, but 6.5 million households, mostly lower-income, have not bought the newer digital TVs or converters for their old sets, according to a study by the Nielsen Co.
The Senate's bill, sponsored by Sen. John Rockefeller of West Virginia, would allow stations to keep their old transmitters turned on until June 12.
"I am pleased that the Senate has acted to delay the deadline, which is our only hope of mitigating the negative impact on millions of consumers," said Rep. Henry Waxman, chairman of the House Energy and Commerce Committee.
"In light of the Senate action, I will work with the House Democratic leadership to bring up the Senate bill for consideration Tuesday," Waxman, a California Democrat, said.
Two members of the Federal Communications Commission sent a letter to Rockefeller and Waxman this month "to express our deep concern" that the country is "nowhere near" ready for the signal switch.
Commissioners Michael Copps and Jonathan Adelstein called for a delay to give the government more time to get "boots on the ground" to help with the transition.
At least $200 million has been spent in recent years to explain to TV viewers how they need to prepare, but one key element of the federal government's transition plans hit a bottleneck in recent months.
The FCC ran out of money in recent weeks for the $40 coupons to help people buy converters for their analog TVs.
The new digital signals also don't reach some communities now served by the analog signals, the commissioners said.
The FCC opened a call center just last week to help consumers prepare for the analog-to-digital switch.
The four-month delay would come with a cost to local television stations. Keeping their old transmitters turned on would result in higher power bills and maintenance expenses.
E-mail to a friend

All About Digital Televisions • U.S. Senate • U.S. Federal Communications Commission