By John D. Sutter
CNN






(CNN) -- With many workers stuck at their desks during the late-morning swearing-in of President Obama on Tuesday, more people than ever went online to watch live video of the historic inauguration.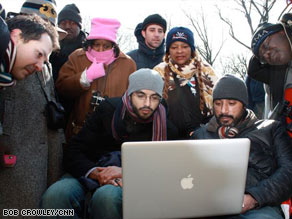 A group crowds around a laptop to watch the inaugural events in Washington.
News sites, including CNN.com, shattered records for viewers watching live streaming video online. And, sometimes for the first time, news sites carried video feeds on their front pages.
About 7.7 million people watched the inauguration on Tuesday online at the same time, according to Akamai Technologies Inc. That likely makes the inauguration the single most-watched event in the history of live Web video, according to the company, which handles Web traffic for more than 150 news sites worldwide, including nytimes.com, Ustream, Viacom, WSJ.com and others.
Across the day, nearly 27 million people watched streaming video on CNN.com Live on Tuesday, according to CNN spokeswoman Jennifer Martin. That's more than five times the site's previous record, set on Election Day, when 5.3 million people watched streaming video of the day's events.
CNN.com Live estimates that it streamed 1.3 million simultaneous video feeds just before Obama's inaugural address Tuesday. That may be a record for live video on the Internet. YouTube set a record with 700,000 viewers on a variety show on Election Day in November, the Los Angeles Times reported.
The record has not been confirmed by third-party sources.
The New York Times declined to release its Tuesday numbers, but spokeswoman Stacy Green said nytimes.com saw more streaming Web users than ever. CBSNews.com also reported a record day for online video, said Sarah Cain, a spokeswoman for the network.
Sites tried to attract viewers in new ways, linking their news coverage with social media networks like Facebook and Twitter.
Obama himself got in on the action, posting this message to his Twitter account after the November 4 election: "We just made history. All of this happened because you gave your time, talent and passion. All of this happened because of you."
For some viewers, the inauguration was a first-time experiment with streaming video online, and the high traffic on most sites didn't always make that transition easy.
Some news sites' coverage froze during the inauguration, according to Keynote Systems Inc., which tracks Internet performance. Keynote Systems spokesman Dan Berkowitz said the Web's top 40 sites slowed by as much as 60 percent by the time the ceremony started at 11 a.m.
On CNN.com, some streaming-video watchers who were pushed into a temporary "waiting room" were shown this tongue-in-cheek message: "You made it! However, so did everyone else."
Chris Ariens, editor of the blog WebNewser, said he watched live online video coverage from CNN, MSNBC, ABC and CBS. All froze, leading Ariens to revert back to a television in his office.
"I think the bottom line was, while it was great to be able to, from the ease of your desktop, watch some of the coverage, when push came to shove, you had to go back to television," he said.
A blogger for CBSNews.com acknowledged trouble with its online video.
"Just as massive crowds filled the National Mall in Washington, millions of users flocked to online video feeds," James M. Klatell wrote in a CBSNews.com blog entry Tuesday. "Maybe we're not as far into the Internet Age as we thought."
The hiccups in Web video should not be discouraging for viewers or news companies, said Al Tompkins, who teaches broadcasting and online news at the Poynter Institute, a school for journalists in Florida.
If anything, he said, the trouble with streaming video should show companies there's great consumer demand for video online.
"They need to know that if they build it they will come, and [Tuesday] was a great example that there is a demand for video," Tompkins said.
Some viewers turned to radio and other forms of media to fill in the gaps in online video technology. Others gathered around office computers to watch the ceremony online.
Tompkins said viewership of Web video was high Tuesday partly because it was available on so many sites -- and because many workers were trapped at their desks during the inauguration.
Clint Cantwell, who works in public relations in New York, left his office near Times Square briefly to take in the excitement outside. Then he returned to his desk to watch streaming coverage.
The video stalled at times, but the audio worked, and Cantwell said he genuinely enjoyed watching an inauguration for the first time online.
"In the past, you pretty much had to be at home or in an office with television to be able to experience what's in Washington," said Cantwell, who also sent photos to CNN's iReport, a public submission site that saw an unprecedented 12,000 entries on Tuesday.
Although the inauguration set records for Web video, it's unclear exactly how the ceremony ranked against other news events in terms of total hits online.
Globally, Akamai reported, 5.4 million visitors were visiting Web pages per minute at noon Tuesday, with most of the crowd in North America.
Four other news events have garnered more Web attention than Tuesday's inauguration, according to Akamai's Web site. The top-ranking news event in terms of views per minute was Obama's election in November, with 8.6 million views per minute. A World Cup match and two basketball games also ranked higher than the inauguration.
CNN.com partnered with Facebook, the social networking site, to let online friends share commentary while watching the inauguration live.
Facebook reported unprecedented traffic during the event, with the site averaging 4,000 status updates per hour Tuesday morning. The online comments reportedly peaked at 8,500 updates per minute during Obama's inaugural speech.
News consumers have been turning to the Internet in increasing numbers for years. Last year, for the first time, the Pew Research Center reported that more Americans said they got most of their national and international news online than in print.
Tompkins, the journalism teacher, said it's up to news companies to keep advancing the way they cover big events.
E-mail to a friend

All About Internet • U.S. Presidential Inauguration