By Brandon Griggs
CNN





SAN FRANCISCO, California (CNN) -- Instead of Apple CEO Steve Jobs, celebrity-seekers at Tuesday's Macworld keynote address had to settle for crooner Tony Bennett. And instead of blockbuster news from Apple Vice President Philip Schiller, attendees got changes in iTunes pricing, a series of software upgrades and a $2,800 17-inch notebook.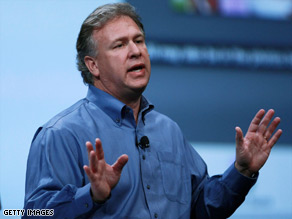 Apple Vice President Philip Schiller delivers the MacWorld keynote address Tuesday in San Francisco.
Among Mac users and industry observers, reaction to the 90-minute keynote, which Apple says will be its last at Macworld, was predictably mixed.
"Tony Bennett got a standing ovation. Apple, not so much," said Philip Elmer-DeWitt, who writes an Apple column for Fortune magazine. "It wasn't up to Steve Jobs' standards. Phil is not the showman that Steve is, but he didn't have much material to work with."
"I think Phil did a great job," countered Chuck Freedman, an IT specialist from suburban Detroit, Michigan. "Yes, we miss Steve, but Phil handled everything well. I'm here to see what Apple's doing next, not how much weight Steve has lost."
So what is Apple doing next? Pre-Macworld rumors about an iPhone Nano and a preview of the Snow Leopard operating system proved unfounded.
Instead, Schiller introduced upgrades to Apple's iLife and iWork software suites, unveiled a 17-inch unibody MacBook Pro with a more powerful battery, and announced tweaks to iTunes' 99 cents-per-song pricing model.
The result earned Schiller consistent applause but not the wild cheering that greeted Jobs' 2007 announcement of the iPhone, for example.

Watch Schiller's keynote address at Macworld »
"It was a real solid presentation," said Mike McGuire, a media analyst with Gartner Market Research, citing Apple's emphasis on revamping its core products amid a challenging economic climate. "There's not the frenzied hoopla [of past years]. But maybe this isn't the best time for that."
From a consumer perspective, the day's biggest news may have been the price changes at iTunes, Apple's wildly successful online music store. Beginning April 1, songs on the site will cost $1.29, 99 cents or 69 cents, although more songs will be sold at the lower price than at the higher price, Schiller said.
Apple did not elaborate on how songs will be priced, although observers expect most new hits to cost $1.29 and older songs to be cheaper.
"Apple is essentially leaving that up to the [music] labels," McGuire said. "It'll be interesting to see how the labels and the artists deal with that."
After his iTunes announcement, Schiller yielded the spotlight to Bennett, who glided onstage with a four-piece band to sing "The Best is Yet to Come" and his signature "I Left My Heart in San Francisco." iReport.com: See a mobile photo from Macworld, send your own images
Attendees seemed bored during Schiller's demonstration of the revamped iWork, Apple's software for office use.
Some also expressed skepticism about Apple's plans to launch a beta version of iWork.com that will allow users to review and edit documents collaboratively online. But they perked up when Schiller mentioned a new app that will let people use their iPhones as remotes to run multimedia business presentations.
Audience members -- including former Vice President Al Gore, an Apple board member -- showed more enthusiasm for the upgraded iPhoto, iMovie and Garage Band software, which is bundled together as iLife '09 and goes on sale in late January.
The new iPhoto has face-recognition software that will make it easier for users to create galleries of friends and family members. It also contains GPS geotagging that will allow users to sort their photos geographically.
Apple is also focusing on improved video editing.
"We decided to completely rewrite iMovie and come up with a whole new version," Schiller said. "We've added so much depth and so much power, we really believe it's going to be the video-editing product that everybody uses."

Watch Schiller unveil Mac's new photo application »
The new version has better precision editing, video stabilization, easier audio editing and smoother transitions, Schiller said.
The new iLife will also have a feature for aspiring musicians.
Learn to Play, part of Garage Band '09, includes software for nine free basic lessons for guitar and nine free basic lessons for piano/keyboards.
It also includes Artist Lessons with video instructions from such famous musicians as Sting, John Fogerty, Norah Jones and Sarah MacLachlan, who will teach users how to play their songs.

Watch Fogerty give a lesson on how to play 'Proud Mary' »
Schiller showed a video of Fogerty explaining how to play the chords for the Creedence Clearwater Revival classic "Proud Mary."
Apple's third major announcement at the conference focused on a 17-inch unibody MacBook Pro notebook. At less than 1 inch thick and weighing in at 6.6 pounds, it would be the world's lightest notebook of its size, Schiller said.
New technology will allow its battery to be recharged up to 1,000 times, more than three times the industry standard.
It can last up to eight hours on a single charge and runs on less than 50 percent the energy of a single lightbulb, Schiller said. He also touted the notebook's improved screen.
The new MacBook Pro will cost $2,799 and starts shipping in late January.
This was the first Macworld keynote since 1997 not to be delivered by Apple CEO Steve Jobs, the tech visionary who relinquished his usual Macworld appearance last month amid concerns about his health.
At past Macworlds -- the annual gathering of Mac users, consultants and partners -- fans stood for hours in lines that snaked around the block to watch Jobs unveil gadgets in his trademark jeans and black mock turtleneck. Recent Macworld keynotes introduced such major Apple products and services as iTunes (2001), the iPod Shuffle (2005) and the iPhone (2007).

See "A decade of Macworld" timeline »
But Apple is changing the way it does business. Thanks to its Web site and its network of retail stores, the company can reach more than 100 million customers around the world directly, which makes Apple less reliant on trade shows like Macworld to spread its message.

The biggest topic of discussion at Macworld, however, was not a potential Apple product or even the contents of Schiller's speech but the mystery surrounding Jobs' absence from the trade show celebrating the company he co-founded.
Attendees were heartened by Jobs' announcement Monday that his recent weight loss was caused by a hormonal imbalance that can be remedied and that he will continue as Apple's CEO while he gets treatment. Concerns about Jobs' health have hounded Apple since 2004, when he was treated for pancreatic cancer.
E-mail to a friend

All About Steve Jobs • Apple Inc.