By Brandon Griggs
CNN





SAN FRANCISCO, California (CNN) -- After months of speculation about his health, Apple CEO Steve Jobs announced Monday that his doctors believe a hormonal imbalance is to blame for his alarming weight loss.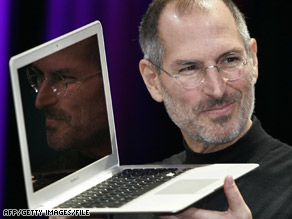 Apple CEO Steve Jobs, 53, discussed his health issues in a letter addressed to "the Apple community."
"The remedy for this nutritional problem is relatively simple and straightforward, and I've already begun treatment," Jobs wrote in a letter addressed to "the Apple community."
"But, just like I didn't lose this much weight and body mass in a week or a month, my doctors expect it will take me until late this spring to regain it. I will continue as Apple's CEO during my recovery."
Attendees at the Macworld Conference & Expo, which kicked off Monday in San Francisco, were encouraged to hear the announcement.
"That's good news," said Marty Crouch, founder and owner of Webvalence, a Portland, Oregon, Internet services company.

See "A decade of Macworld" timeline »
"I've been personally worried. So it's very heartening for me to have some confirmation that his situation isn't grave. It was probably smart for them [Apple] to announce it at this time, because there's been an inordinate amount of speculation."
Cody Smedsrud, an associate with Success Charter Network, a series of charter schools in New York, said, "I'm glad Steve's all right. But I haven't noticed any diminishing quality [in Apple products] as a result of his supposed health problems.
"I try not to get wrapped up in all the hoopla about Steve's health and the [Apple] share price going up and down," he added, while nursing a coffee Monday morning in the cavernous exhibition hall. "As long as the company's putting out good products that work, I'm happy."
Concerns about the health of Jobs, 53, began after he was treated for pancreatic cancer in 2004. A medical expert contacted by CNN said Jobs' latest announcement about a hormonal imbalance lacked specifics.
"Based on his history of having gastrointestinal problems, it's possible that he's simply referring to the gastrointestinal system, and it isn't either absorbing proteins or is losing proteins, and that has now been addressed," said Dr. Kenneth Burman, the section director of endocrinology at Washington Hospital Center.
Apple fueled rumors about Jobs' condition when the company announced last month that Jobs would not attend Macworld to deliver his usual keynote address. Attendees here remained curious about what news Apple will announce at Tuesday morning's keynote, scheduled to be delivered by Apple Vice President Philip Schiller.
"I'm hoping Steve will show up tomorrow and do a little cameo," said Eric Ronberg, sales manager for Griffin, a Nashville, Tennessee-based maker of iPod and iPhone accessories.
"Maybe he'll do little [remote] iChat with Phil."
Almost 50,000 attendees are expected at this week's Macworld, the largest annual gathering of Mac enthusiasts and Apple industry types. Apple has said this year will be its last at the conference.
The Apple booth here was cloaked Monday behind tall black drapes and is expected to open after Tuesday's keynote. Several Apple employees approached by CNN declined to comment on the announcement about Jobs' health.
Elsewhere, tech industry observers downplayed the significance of Jobs' announcement, saying Monday that despite the CEO's legendary status among techies, Apple's fortunes should not be linked so closely with his personal health.
"While he remains one of the technology industry's brightest visionaries, and it's reassuring to hear that physicians have reportedly located the cause of Jobs' recent troubles, the company continues to push forward with compelling product and set milestones in digital distribution," said Scott Steinberg, publisher of DigitalTrends.com.

"Is Jobs' responsible in major part for the firm's continued success? Certainly. Is he the single-handed driver behind its continued growth? I suspect to award that kind of accolade would be to severely shortchange the efforts of the various engineers, creatives, marketers and executives who also contribute to the success of [Apple]."
Dan Costa, an editor at PC Magazine, said, "Hopefully, this statement will put the rumors to rest for a while. It seems to me that Apple's decision to pull out of Macworld was a strategic move, not a knee-jerk reaction to Jobs' health issues."
E-mail to a friend

CNN's Elizabeth Landau contributed to this report.
All About Steve Jobs • Apple Inc.