(CNN) -- Three-time major winner Ernie Els has made the long flight to Jeju Island in South Korea as he bids to get his faltering career back on track with victory in this week's Ballantine's Championship.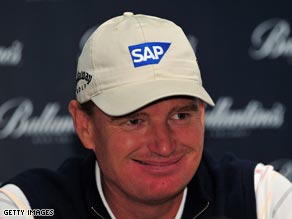 Els talks to the press after the Pro-Am for the Ballantines Championship in South Korea.
Els, who missed the cut at the Masters for the third year in a row, has gone back to the European Tour in a bid to regain the winning habit.
However, the remote island in the Korean strait is notoriously inaccessible. "I've done it my whole career, you know, traveling," he told the official European Tour Web site.
"I think to spread golf around the world, and especially in emerging markets like in Asia, and Asia is a very big place; that means China, Korea, Thailand, Singapore, all over the place.
"It's a very big place, Asia, and this is the emerging market. So you need to be there when the game is starting to grow, so that's what we are doing."
Els, who failed to win a tournament on the European Tour for the first time in seven years in 2008, will take his place in a strong international field which also includes former Masters winner Fred Couples of the United States.
The 39-year-old is desperate to return to winning ways as he bids for his 25th victory on the European Tour.
"I'm really working hard on my putting," he said. "It's not showing at the moment, but it will start showing."
Northern Ireland's Graeme McDowell is defending the title he won in a playoff with India's Jeev Milkha Singh last year.
Scores were low last year, but the Ryder Cup star is expecting a tougher test this time around on the Pinx Golf Club. "I sort of remember the golf course being a little easier than the one I've been practising on the last couple of days," he said.
"Obviously a bit more rough here on the golf course this year. The wind is blowing a little stronger. I certainly expect 24 under to win by lots of shots this year, so I think scoring is going to be more difficult."
E-mail to a friend