(CNN) -- Women's professional golf has lost another big tournament after the LPGA Tour announced that this year's Corning Classic will be the last.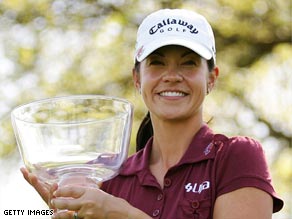 American Leta Lindlay claimed the Corning Claasic title in 2008.
The tournament, which takes place in the third week of May, has been held in the New York State town of the same name since 1979 with big names such as Annika Sorenstam, Patty Sheehan and Juli Inkster among the winners.
The economic downturn is taking a heavy toll on the LPGA Tour with tournaments in Hawaii, South Carolina, Oklahomo and Alabama going from the 2009 schedule and the end of season Stanford Financial Tour Championship in considerable doubt.
The tournament patron Allen Stanford is under investigation for securites and investment fraud.
The LPGA Corning Classic president Jack Benjamin told the offficial Tour Web site www.lpatour.com that they had searched in vain for new sponsors.
"This is a most difficult decision for all of us. Everyone involved with the event is passionate about it and about the LPGA players who have been a part of it for more than three decades," he said..
"But the realities are that the revenue opportunities in the marketplace will not support the components needed to successfully host a major event like this in our community moving forward."
American Leta Lindley will defend her title on May 21-24.
"The tournament has had a great run," Benjamin added.
"While this will be our last tournament, we are committed to executing one of the finest women's professional golf tournaments you will find on the LPGA Tour."
E-mail to a friend