(CNN) -- Austrian Markus Brier carded a five-under 67 for a one-shot lead over England's Nick Dougherty and Australian David McKenzie after the first round of the China Open in Beijing.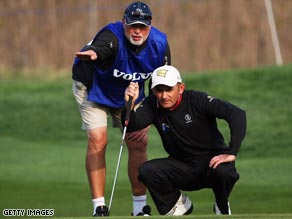 Austrian Markus Brier takes the advice of his caddie on his way to the China Open first round lead.
"I got good breaks today," admitted the 40-year-old Brier who lifted the title two years ago. "I started quite well off the tee, hit a lot of early fairways and that gives you a lot of chances."
Brier turned in 34, having started at the 10th hole, and a run of three straight birdies from the second put his challenge firmly on course.
His day ended on a disappointing note, though, when he three-putted the ninth to drop back to five-under-par.
"The other guys (in his group) had a four and a five putt, he said. "Thongchai (Jaidee) missed from two feet and one-and-a-half feet or something.
"We had a good look at it afterwards, maybe there's a little slope there, but I've never seen anything like that, not in one group."
McKenzie surged up the leaderboard following an eagle at the 377-yard, par-four fifth when he holed his second shot from 102 yards.
"I have felt like I'm swinging the club well and the technique's good but I just haven't been getting the scores that I feel I should for the way I've been hitting it," McKenzie said.
Simon Dyson, who had a recurrence of neck trouble, and Chapchai Nirat finished a shot further back on three-under-par.
Dyson was pleased with a solid 69 that featured four birdies and a bogey in his first eight holes and said his neck injury had flared up again on the eve of the event.
"Last night I was struggling but I put a bit of ice on it last night, had a bit of physio on it this morning, strapped it up and it held out nicely," he told PA Sport. "Hopefully it'll stay like that for the next three days."
E-mail to a friend