(CNN) -- Golfing legend Gary Player and 1979 winner Fuzzy Zoeller bade emotional farewells to the Masters while Greg Norman, quite possibly the best player never to win the hallowed major, may well have played his last competitive round at Augusta as he narrowly missed the halfway cut.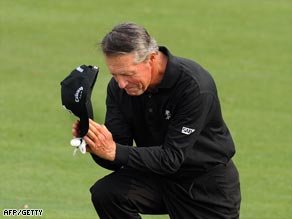 Player doffs his cap to the crowd gathered around the 18th at Augusta.
Three-time champion Player was playing his 52nd Masters, finally giving in to Old Father Time at a still spritely 73, but taking in the unique atmosphere for one last time.
The South African was cheered to the rafters at every hole and received a standing ovation as he walked up 18 on Friday -- 17-over-par but nobody cared.
"I'll never forget that as long as I live. It just went on and on and on from all sides," Player told Press Association.
"I wish I had the words of Winston Churchill to say the appropriate thing. But it was a feast, something you will never, ever forget.
"You'll go to your grave knowing you had tremendous love showered upon yourself."
Player, a fitness fanatic who transformed professional golf as part of the 'Big Three' with Arnold Palmer and Jack Nicklaus, said he felt himself to be privileged to have had such a career.
"To be able to play 52 times, to put yourself in the one percent of the world to be healthy, I consider myself lucky.
"Coming from a very poor beginning, that gave me the tenacity and desire to be a champion and go to the gym for 63 years and watch my diet.
"It has been an incredible life."
The contrast between Player and the carefree, happy go lucky Zoeller could not be more marked, but Fuzzy too also has a special place in the hearts of the Augusta faithful with his own unique style.
He became the first rookie to win the Green Jacket exactly 30 years ago and legend has it he did not bother to take time to line up his putts, leaving it to expert local caddie Jariah Beard.
Zoeller signed for a second round 76 which left him 10 strokes out of the cut and reflected on his experiences at the Masters.
"I hope everybody's had fun, because I've enjoyed my ride," Zoeller said.
Don't Miss
"I can tell you that. Now it's time to step aside and let some other young kid come in and win. Hopefully, they will, too."
Norman spent much of the second round believing he could extend his stay by making the halfway cut which eventually came at one over.
Starting the second round well-placed on two-under, the Great White Shark saw shots slip away on the back nine in testing conditions.
It left him with a five-over 77 and two shots outside the mark.
"I played really well," Norman said as he reflected on his near-miss.
"We got warned for slow play on the 13th hole and it kind of threw me out of rhythm a little bit, and then we had to wait two holes later. It's one of those things with the game of golf, and I didn't really recover from that."
Norman qualified for the Masters by virtue of his astonishing third-placed finish at the British Open, but at 54 and without the benefit of the lifetime exemption of a former Masters winner he will need to repeat his Royal Birkdale heroics to make a return.
His verdict on the Masters ?
"Still the best tournament around," Norman said. "Unfortunately, I won't be around on the weekend."
Also missing the cut were two-time Masters winners Tom Watson, Ben Crenshaw, Jose Maria Olazabal of Spain and German Bernhard Langer.
Veteran former champions Fred Couples, Ray Floyd and Ian Woosnam also went home, while South African pair Ernie Els and Retief Goosen made disappointing exits.
E-mail to a friend