BELFAST, Northern Ireland (CNN) -- When teenage golf sensation Rory McIlroy tees off at the Shell Houston Open Thursday, he'll be sharing the green with the strongest field in the tournament's history.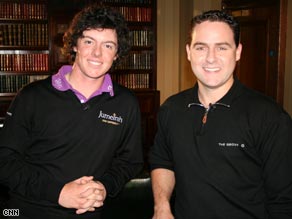 Rory McIlroy with CNN's Justin Armsden at the Lough Erne Golf Resort in Northern Ireland.
Fifteen of the world's top 20 players are contesting the title at the Redstone Golf Club, the last stepping stone to the season's first major in Augusta.
McIlroy comes into the competition ranked number 17 after his maiden win at the Dubai Desert Classic in January this year.
The victory prompted praise from McIlroy's childhood hero, world number one, Tiger Woods who predicted that he would one day take the top spot.
CNN's Justin Armsden met Rory McIlroy at his home course of Lough Erne in Northern Ireland.
He started by asking the 19 year old how life had been since his first professional win in Dubai.

Watch our interview with Rory McIlroy »
Rory McIlroy: Yeah, it's been great, obviously getting that first win under my belt in Dubai changed things for me and then the last few weeks in America have been great. I played well but not as well as I wanted to at Doral -- three pretty solid finishes and looking forward to the run up to Augusta.
Justin Armsden: What's your preparation going to be building up to that? And what are your expectations of yourself going into it because obviously the wider public and the media are going be keeping a close eye on you during the tournament.
Rory McIlroy: I just have to prepare like I'd prepare for any other tournament, hope that I go out and play well and the way my recent form has been there's no reason why I shouldn't go out and play well again.
Justin Armsden: I did hear a whisper a while ago that you were playing a practice round with Tiger, is that true?
Rory McIlroy: We'll see, I played the first two rounds in Dubai with Mark O'Meara who's obviously a buddy of Tiger's and myself and Mark are going to pay a practice round on Tuesday and if Tiger wants to join he came. It would be great, it would be a huge thrill for me if he joined us and it would make the week a little bit more special.
Justin Armsden: Speaking of Tiger, it's very strange for him to come out and sing the praises of anyone who's an opponent obviously, but on the back of what Mark O'Meara said in Dubai, Tiger came out and said you'd be world number one but give him time. That's an amazing standard of praise isn't it?
Rory McIlroy: Yeah it just gives me goose bumps. For Tiger to say that about me, you know, you can't get a higher compliment than that but I can't let it get into my head, but it gives you a lot of confidence and a lot of motivation that you, that if you do work hard, you can get to that level and for someone of Tiger Woods' caliber to say that I can, it's a pretty cool feeling.

We put Rory to the test on Tiger trivia » |

Take our Tiger quiz »
Don't Miss
Justin Armsden: You'd still like to knock him off the number one spot wouldn't you? I think you said a while back you'd like to get inside the top 10 this year. So have things changed in terms of your ambitions, you know Tiger a little bit closer.
Rory McIlroy: We've got to see how he comes back from this injury. You've got to concentrate on just trying to move up, and I'll be concentrating on trying to get to number two before I get to number one.
Justin Armsden: Tell us what really irks you at the moment about all this attention and everything. Does it wear you out or you want a bit of time to yourself ...
Rory McIlroy: A little bit, I enjoy it to be perfectly honest. It would be nice to get a little bit of time to myself but I'm very fortunate to be in the position I'm in. I see friends of mine that are in uni and having to work and trying to make ends meet and I'm traveling the world playing golf, it's a bit of an easy life compared to some people. I'm very fortunate to be what I'm doing, definitely.
Justin Armsden: I remember seeing your parents in Dubai for you first win. It must have been a special moment to have them there and obviously, reading up about what they did for you during your amateur career. You're giving a lot back to them now through your performances and the way that you're going about your life at the moment aren't you?
Rory McIlroy: Yeah, I always said to my mum and dad that if I ever made it, get out on tour and start to get a little bit of money, I'd always look after them, and it's nice to take them to America, and I'm taking them to Augusta with me and it's nice for them to get a little bit of the reward, just get something back, because they put so much in.
Justin Armsden: You think they'll do a lot more travel following you around the world? Is it comforting for you to have them there?
Rory McIlroy: It's nice, I like to have them there, I mean my dad was there with me for the first week in Arizona and he said to me, when I was 19 I didn't want my dad hanging around with me and I said it's just nice to be able to have you around because being on tour can sometimes be lonely in a way and its nice to have them around and share everything with them.

Justin Armsden: It must be a pretty good feeling to be a part of a course here, obviously not opened yet, but opened by Nick Faldo. What's he done for you?
Rory McIlroy: I played in the Faldo Junior Series, just to learn form a six-time world champion, just to pick his brain and see how he thinks on the golf course and how he got around and all the experiences he had, coming down the stretch of majors and what he was feeling, it's nice to be able to ask questions off people like that.
E-mail to a friend