(CNN) -- Spanish golf legend Seve Ballesteros says that fighting a brain tumor is the biggest battle of his life and in golfing terms like winning a sixth major title.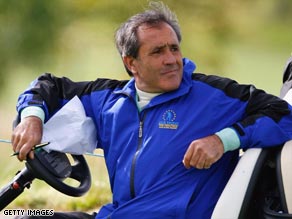 Brave Seve Ballesteros says that battling his brain tumor is like fighting for a sixth career major.
Ballesteros has spoken publicly for the first time since being diagnosed with the disease last October after collapsing at Madrid's Barajas airport.
In the interview published in Spanish sports daily Marca, The Times and The New York Times, the five-time major champion speaks of the shock at being told by doctors the seriousness of his illness.
"They were very clear with me," he said. "They told me, 'This is a tumor, it is lucky it is in a place on the right side (of the brain).
"I was shocked. You are fine and suddenly they tell you that, can you imagine? It is dreadful."
Ballesteros' illness surfaced after he collapsed when about to fly to Germany to launch a new range of golf clubs.
He recalls falling down an escalator at the airport but, not wanting to make a fuss, managed to drag his suitcase to where his nephew, Ivan, was waiting.
"I just got into the car and told him, 'If you knew what had happened to me'," said the 51-year-old who was taken to Madrid's La Paz hospital.
Since then Ballesteros has had four operations and has just started his fourth course of chemotherapy.
He has been given a fitness regime to follow. When admitted to hospital he weighed 90 kilos and is now 75kg, the weight he was when he became the youngest player to win the Masters in 1980, a record since surpassed by Tiger Woods.
He admits he has not always been the perfect patient. "Some days the physiotherapist comes along and other days I have cognitive therapy," he said.
"I have to tell you that sometimes I have been rebellious. It has happened a couple of times."
In the English translation of the Marca interview he offered an insight into the lows he has had to endure over the last few months.
"When you wake up in the morning, you do not want to get out of bed and you say, 'Where do I go?'. The problem is there when you are fully aware of what is happening, that is when you feel the inside pain.
"But the way I look at it, this is the biggest battle of my life, this is the sixth major."
Seve is just glad to be around to fight that battle. "I have had the luck of getting a mulligan, which in golf is a second opportunity," he said. "I have got a mulligan in life."
E-mail to a friend