(CNN) -- Paula Creamer had to wait nearly an hour to sink her four-foot birdie putt on the final hole for a five-under-par 67 and a share of the HSBC Women's Champions first round lead in Singapore.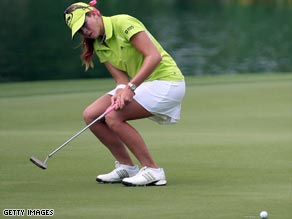 Joint leader Creamer missed this part on the third but returned after an hour's delay to sink one on the 18th.
The American fought-off influenza-like symptons to put herself in contention at Tanah Merah Country Club where play was interrupted because of an electrical storm.
"I'd rather have to putt than come out and have to play a couple of extra holes," said Creamer who sank six birdies to move alongside compatriot Jane Park and Brazilian-American Angela Park.
"But I was just kind of bummed that we didn't get to finish so I could go home.
Creamer confirmed: "The beginning part I was very sick, very nauseous and during the middle of the round to the last couple of holes my body felt terrible -- chills and aching and all of that."
She added: "It definitely wasn't heat -- I drank so many bottles of water I think it's impossible to be dehydrated. It must have been something I ate. I haven't been feeling very well for the last couple of days.
"When I woke up this morning I was thinking 'I hope I get to play', but you'll have to carry me out on a stretcher before I'll leave a tournament."
South Korean Lee Seon-hwa saw her charge disrupted when she left the course with three holes remaining and threatening to take the lead.
However, she dropped a shot on both the 16th and 18th and ended one stroke behind alongside Ai Miyazato of Japan on four-under.
Defending champion and world number one Lorena Ochoa is in a group of five players, also including Korean Se Ri Pak, a further shot back.
Mexican Ochoa birdied the first, 10th and 16th and said she needs to be more aggressive, while the day's biggest disappointment was England's Laura Davies who carded nine bogeys for a nine-over-par 81.
E-mail to a friend