By Terry Baddoo





(CNN) -- Fore! Excuse me, that's not the sound of a wayward tee-shot coming your way, but a warning to all that Tiger Woods is back playing competitive golf in this week's WGC-Accenture Match Play Championship.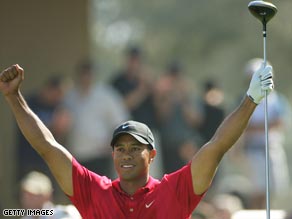 Will Tiger's return to the golfing ranks spur his rivals to raise their games?
And when news of that filtered down through the ranks of his fellow- professionals it was also the signal for many of them to raise the white flag.
For while the Nike commercial that parodied Tiger's return was tongue in cheek and extremely funny, it also contained more than an element of truth, because in no other sport have the players capitulated to one man quite so readily as they have in the game of golf.
Of course, Tiger has set the standard, and no-one disputes the fact that he's a supreme and dedicated athlete who deserves all the plaudits and accolades he gets.
But please! The rest of you are professional golfers too. And to hear the likes of Phil Mickelson fawning over Tiger's return like he'd just been granted an audience with God was hard to watch.
Phil, you're the world number three is case you'd forgotten. You should be champing at the bit to spoil Tiger's comeback, not counting your blessings because you can once again walk in the Messiah's shadow.
And Mickelson's not the only one who's put Tiger on a pedestal. We've all done it. Was it my imagination, or did the PGA Tour all but disappear from the headlines during Tiger's eight-month injury exile?
It certainly wasn't a priority in the sporting media, even though Padraig Harrington stepped into the fray and won two straight majors! I didn't hear any -- who can beat Padraig? questions fired at the players during the various news conferences and interviews that took place in Tiger's absence.
In fact, there were more questions about the validity of any title victory in a field that didn't contain Tiger.
Don't Miss
The only dissenting voice I heard with regard to the constant harping on about Tiger came from Colombian golfer, Camilo Villegas, who visibly bristled when asked "The Tiger Question" during an interview with World Sport's Justin Armsden in the Middle East.
For that I say bravo! It showed a fire in his belly and a professional pride that's apparently lacking in his colleagues, who appear to be beaten before they step on the course if Tiger's in the field.
Where else in the world of sport is that acceptable? Don't we constantly bemoan the lack of rivalries in women's tennis? Don't we love the fact that it's now Nadal against Federer in the men's game, as opposed to Roger having it all his own way?
Isn't the English Premier League a better league because it has a big-four not a big one? Has Formula One become more interesting now it's no longer a procession led by Ferrari?
I could go on, but the fact is that sport thrives on competition, of which there is none when Tiger's on the golf course. Not because he's invincible, but because he's been deified by the very people whose job it is to beat him.
So come on golfers, adopt a boxer's mentality for the good of the sport. No fighter worth his salt ever goes into a bout believing he will lose, even if the odds are stacked against him.
And no golfer should ever enter a tournament believing he's fighting for second place. So celebrate Tiger's return by all means. Flash a smile, slap his palm, and say "Welcome back." But only because it gives you another chance to kick his behind all the way to the clubhouse.
E-mail to a friend