(CNN) -- Tiger Woods is set to return "in the next few weeks" according to his long-time caddie Steve Williams.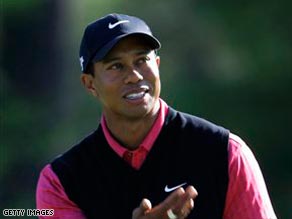 Woods has been out of action since winning his 14th major last June.
The date of the world number one's return to competitive golf has been the subject of fevered speculation, but Williams has thrown some further light on his readiness in an interview with Television New Zealand.
"He is ready to go anytime in the next few weeks," Williams said.
"He is about 90 per cent but he won't play unless he is 100 per cent."
Williams' comments cast doubt on reports that Woods could return as early as next week's WGG Accenture World Match Play Championship in California, where he is defending champion.
He added: "He has had to modify his swing a little bit to accommodate his knee but it is a matter of getting back into the groove."
The world's richest sportsman has not played since winning the U.S. Open in June last year before having reconstructive surgery on the anterior cruciate ligament in his left knee the following week.
Woods said earlier this month that he would put his family first in the timing of his comeback.
He and wife Elin are celebrating the recent birth of their second child, but he will be anxious to return to the PGA Tour ahead of the first major of the season at Augusta in April.
Woods has won 14 majors, four shy of the all-time record of the legendary Jack Nicklaus.
The extent of his injury has led to suggestions that he will struggle to perform to his previous standards, but Williams has no doubt.
"I've said it before, the best quote I have heard about him is that 'they haven't operated on his head and you haven't operated on his heart', which are his two best components," he added.
"Maybe his game is not as good but if he is mentally stronger - we all know that he is the mentally toughest player to play the game so that in itself is a big factor."
E-mail to a friend