(CNN) -- March's edition of Living Golf will feature an exclusive interview with arguably the greatest golf coach on the planet, we'll also be teeing up with one of golf's most colorful characters, and be reporting on how the golf industry is continuing to entice customers in such gloomy economic times.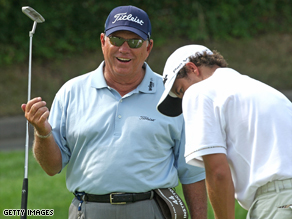 Butch Harmon tells CNN about his time coaching the greats of golf.
Butch Harmon -- The world's greatest golf coach?
The 65-year-old American comes from a family rich in golfing tradition and has coached the best players in the world -- Greg Norman, Fred Couples, Adam Scott, Ernie Els... not to mention Tiger Woods.
Having followed in the footsteps of his father, Butch's son Claude is doing likewise, and the duo recently opened up a new academy in Dubai.
Living Golf joined the Harmons in the region to talk about Butch's time coaching the best players in the world, and what makes the family one of the great dynasties of American golf.
Golf news
In our regular monthly section, we look at how travel agencies are lowering their prices to entice the golfing traveler. We'll also be reporting on Tiger Woods' return from injury.
Selling golf to the masses in 2009
At the start of every year, the world's biggest hitters in the manufacturing and retail sectors come together for the PGA Merchandise show -- the largest global trade show of the year.
Our resident expert Chris Meadows went to Orlando to experience first-hand how these business leaders are coping in the current economic climate, and how they intend to entice consumers to spend in 2009.
The report includes an exclusive interview with former World number one and now business entrepreneur, Greg Norman.
Butch Harmon gives Justin a personal lesson
Having exclusive access to one of the world's greatest coaches of all-time, Justin Armsden couldn't pass up the opportunity of asking Butch for a personal lesson.
E-mail to a friend