By CNN's Paul Armstrong





(CNN) -- The world's number one golfer hasn't hit a ball in competition since he won the U.S. Open in June last year. Now Tiger Woods faces a challenge to hold on to his place at the top of the rankings.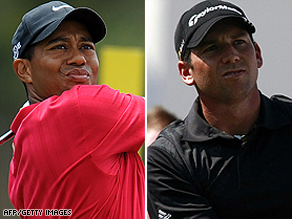 Woods (left) is facing a challenge for his top spot from Sergio "El Nino" Garcia (right).
Woods literally limped to victory last year at Torrey Pines in southern California, after an absorbing play-off with fellow American Rocco Mediate. The winner of 14 "major" titles then announced he would miss the rest of the season -- including the Open Championship and the Ryder Cup -- to have surgery on an injured knee.
With the American yet to compete this season, Spain's Sergio Garcia has narrowed Woods' lead at the top of the world rankings from 11 points in June last year, to less than three points.
Garcia has not finished outside the top eight in his last seven tournaments this season, a run of form which could allow him to topple Woods from top spot within the next two months.
"Of course I have a chance (to relegate the injured Woods to second place), but it's not something that's do-or-die for me," he told PGA.com.
"Winning a major has always been a goal for me, so I guess that's probably the only place where I'll set any kind of a goal," he added. "Other than that, I'll try to play as well as I can at any tournament. If I became the No. 1, nothing is going to change for me."
So what of Woods?
Shortly after winning his third U.S. Open title last summer, Woods revealed he would be undergoing reconstructive surgery on his left knee after playing for "at least" 10 months with a torn ligament.
The second most successful golfer in history -- after the great Jack Nicklaus with 18 major titles -- had fought through the pain to record a remarkable victory over 91 holes.
"This puts into sharp perspective what an extraordinary performance it was," eight-time European number one Colin Montgomerie told the BBC.
"To go 72 holes, then another 18, then have enough to win the play-off; it just shows the sheer willpower of the man. It is difficult in the middle of an extraordinary era to think of the rest of the year without Tiger. It's a huge loss to golf."
To make matters worse, 33-year-old Woods admitted he would also require time to recover from a double stress fracture of his left tibia or shinbone -- an injury attributed to his typically intense preparations for the U.S. Open.
"It is clear that the right thing to do is to listen to my doctors, follow through with this surgery and focus my attention on rehabilitating my knee," Woods said on his Web site at the time.
He now had to focus on the long rehabilitation period ahead.
Almost seven months later, Woods has still to commit to a comeback date. He has already missed the start of the PGA Tour season with two tournaments already played.
However, Woods said on his Web site recently that his recovery was progressing well and that he is now working towards a return to the tour with swing coach Hank Haney.
He said: "As I hoped, after January 1, I started hitting longer irons and my driver. I'm not swinging as hard as I can but I'm working towards that goal.
"So far my knee has held up well, but I don't know when I'll be able to return to competition."
Despite Garcia's consistent form, it remains to be seen whether "El Nino" can tame the Tiger for long. Woods has already demonstrated he can see off the competition with only one good leg.
E-mail to a friend

All About Tiger Woods • U.S. Open - Golf