By Greg Duke





(CNN) -- On Wednesday, all the talk and speculation will finally be over with the official announcement of the European captain for next year's Ryder Cup at Celtic Manor, Wales.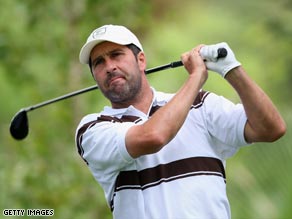 Olazabal has thrown his hat into the ring to be named captain of the 2010 European Ryder Cup team.
The European Tour's tournament committee are holding a final meeting in Dubai to determine just who will replace Nick Faldo for the biennial extravaganza against the United States.
In recent years, Europe have enjoyed a hold on the competition, allowing one captain to seamlessly follow another into the post.
However, Faldo's side failed to retain the trophy in Valhalla last September and -- with his captaincy skills also questioned -- the committee have rightly taken their time before revealing who will lead Europe's elite against Corey Pavin's American side in 2010.
Here, at CNN.com, we evaluate the merits of each likely candidate for the job.
Colin Montgomerie:
For: Monty's name has burst onto the scene in recent weeks and bookmakers have taken a flood of money on his appointment. He is on the committee himself and so has a major input in the final decision. Nobody has a better record in this competition than the determined Scot and there would not be a more inspiring or popular captain for players and supporters alike.
Against: Two main negatives stand in Monty's way. Firstly, although he did not make the 2008 side because of a lack of form, he still harbors playing ambitions for 2010 and is by no means a back-number as far as selection is concerned. Secondly, the 45-year-old has made no secret of harboring hopes of the 2014 captaincy when the tournament is played at Gleneagles, Monty's home course.
Jose-Maria Olazabal:
For: The Spaniard is a likable, laid-back character and has served his apprenticeship with his role as Faldo's vice-captain in 2008. Until recently, he also had hopes of appearing as a player, but continued injury problems have meant he has now publicly thrown his hat into the ring.
Against: The time seems right for 'Olly' to take up the challenge apart from one nagging doubt. His record as a captain in team events is not great. Aside from his role in 2008, Olazabal captained the European team who were out-played by Asia in this year's Royal Trophy.
Ian Woosnam:
For: Woosnam proved an inspiration when he led Europe to a thumping victory at the K Club in 2006. His captaincy won plaudits and his pairings proved inspired. Added to this, he is a local boy and a proud Welshman who will want nothing more than to beat the Americans again on his home patch.
Against: Recent appointments have steered away from multiple captaincies and the fact that Woosnam has already held the position appears to automatically ruled him out of the running again. Unless, of course, the committee radically alter their thinking.
Sandy Lyle:
For: It really should be Lyle's year. He is the last of the big four players of the eighties; Woosnam, Faldo and Bernhard Langer still to get the captaincy and at 50, the timing appears right.
Against: For some reason, Lyle does not have many supporters on the committee. Logic would dictate that he gets 2010, Olazabal 2012 and Monty 2014 but, despite his cool temperament, he always seems to get overlooked. Perhaps his laid-back approach is not what the committee seek in a captain.
E-mail to a friend