(CNN) -- Jose Maria Olazabal has put himself forward as a candidate for the 2010 European Ryder Cup captaincy, even though the Spaniard may have to wait until 2012 -- with Colin Montgomerie favorite to take charge at Celtic Manor next year.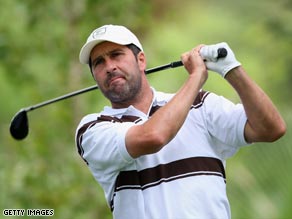 Europe's tournament committee will decide the issue in Dubai next Wednesday, although Montgomerie -- a member of the committee -- emerged as favorite following initial discussions in Abu Dhabi last week.
"Yes Jose Maria is available," his manager Sergio Gomez told the UK's Press Association. "If he is offered the job he will say 'Yes'. We know it is between the two of them and there are factors favoring Jose Maria and factors favoring Monty."
Montgomerie had previously indicated he wanted to play for the team again next year and wait until the event comes to Gleneagles, his home town, in 2014 for the captaincy.
Olazabal, three years younger than Montgomerie at 42, served as Nick Faldo's vice-captain for the United States' victory at Valhalla last year, but said afterwards that he too wanted to fight for a place on the side next time rather than be captain.
However, he has played only two events since last May because of continuing problems with rheumatism.
Don't Miss
Double Masters champion Olazabal pulled out of this week's event in Qatar but does plan to play the Dubai Desert Classic next Thursday.
"He had a small problem with his wrists and forearms and it was painful when gripping the club, but not too severe and he told me to confirm the flights," added Gomez.
"But the chances of him making the team are not what he wanted or expected, so he made up his mind that he would accept the captaincy if it was offered."
E-mail to a friend