LONDON, England (CNN) -- As the economic crisis worsens, we look at the long-term validity of professional golf in the Middle East and Dubai in particular. We also get unprecedented access to some of the world's leading golfers and Adam Scott teams up with world famous coach Butch Harmon for his 'Hot Shots.'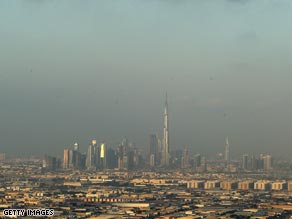 Amid financial turmoil, the future of golf in Dubai is becoming increasingly unclear.
Dubai -- has the oil money run out?
Over the last 12 months, golf has continued to expand and develop in new emerging markets, and many have seen the Middle East as the 21st century's "home of golf." An enormous amount of money has been invested in the game, most noticeably by Dubai, and most significantly through the sale of golf real estate.
However, with the world in recession and with fears over Dubai's much publicized debt, how sustainable is this notion? We speak with some of the leading figures in the game in both Doha and Dubai to gauge how this emirate state's big gamble is playing out.
Fantasy fourball
It's not too often you get a chance to play golf with a professional, let alone three of the world's best at a course that will host the climax of this year's European season, but on the show this month, presenter Justin Armsden will experience just that.
Teaming up with Sergio Garcia, Justin Rose and Darren Clarke, as part of a world exclusive, Justin will play the four closing holes of the Earth Course, which was unveiled to the world in January, and will host November's Dubai World Championship.
Tune in to see how he fared and what they have to say about the year ahead.
Golf news
The latest golfing news from around the world including an interview with the new European Ryder Cup captain.
Scott's Hot Shots
Our touring professional Adam Scott teams up with us in Dubai for his latest selection of golfing tips.
Ollie Fisher -- new kid on the block
20-year-old Oliver Fisher has been regarded as a hot prospect in the golfing community ever since Nick Faldo nurtured him in his early teenage years. Now a professional on the European Tour, Fisher is considered to be one of Europe's top hopes for the future and Justin Armsden caught up with him recently at his home just outside of London.
SHOW TIMES
ALL TIMES GMT
Thursday, February 5: 1400, 1830
Saturday, February 7: 0800, 1830
Sunday, February 8: 0400, 0830, 1430
E-mail to a friend