By Peter Sorel-Cameron
For CNN






LONDON, England (CNN) -- Golf in 2008 gave us some great individual performances, but it was the outstanding double-Major win from Irishman Padraig Harrington which really impressed.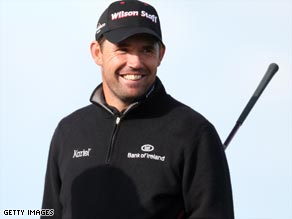 Harrington is widely considered to have been the best golfer of 2008.
In July he successfully defended his British Open title at Royal Birkdale. Then three weeks later he made it two in a row when he took the PGA Championship -- the first European to win the event since 1930.
For his efforts he has been named the American golf writers' Player of the Year, the European Tour's Golfer of the Year and has won the Golf Writer's Trophy for the second year in a row.
He has also risen to fourth in the world rankings, making him one of the key figures in golf today, and a real threat to the number one.
"My first (British) Open, I felt I won it for everybody who supported me back home... it really was for them," Harrington told CNN's Living Golf. " The next two Majors (were) more for me, my golf and what I'm doing."

Watch Living Golf's interview with Harrington »
The Irishman has now won three of the last six Majors and has his sights set on new goals. When he spoke to CNN's Living Golf he listed an Olympic gold medal and the inaugural Race to Dubai as big prizes he would like to take in the future.
Don't Miss
"I fully intend to give myself that chance," he said when referring to the Race -- an event that has a total prize fund of $10 million split between the top fifteen golfers at the end of the 2009 season.
On the subject of the upcoming year, Harrington admits that though he may have big successes in the future he isn't relying on them coming in 2009.
"I know I will win more Majors over the next period of years, but I'm not going to put myself under the pressure that it has to happen immediately," he told CNN's Living Golf.

He went on to say: "What I've got to think about is improving my game, and getting better as a player -- giving myself the chance to win more Majors."
And if the 37-year-old does as he says and continues to improve his game, then he will surely become one of golf's greats.
E-mail to a friend