(CNN) -- Seve Ballesteros has left stand-in captain Jose Maria Olazabal in no doubts regarding his expectations when Europe take on Asia for The Royal Trophy at the Amata Spring Country Club in Bangkok on Friday.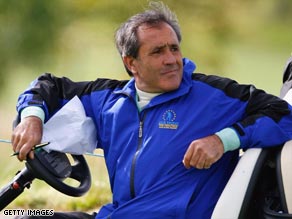 Brave Ballesteros is determined to back in the driving seat for the 2010 edition of The Royal Trophy.
"His only instructions were to win," said Olazabal who takes charge of the European side in the absence of his Spanish compatriot who is recovering after surgery to remove a brain tumor.
Ballesteros was the visionary behind the annual matchplay event and led Europe to glory in 2006 and 2007, while last year's tournament was called off after a death in the Thai Royal family.
The 51-year-old will be following the contest at home in Bilbao and has made it clear he wants to be back at the helm in 2010 to defend the Trophy.
Ballesteros' nephew, Ivan, is in Thailand and read a letter from the five-time major winner which reiterated his determination to make a full recovery. "I will keep fighting and doing all in my heart and in my head to win my most difficult match," Seve's message said.
Olazabal, who was visibly moved as the letter was being read, has been in regular contact with Ballesteros.
"He is doing very well considering what he has gone through. He's spirits are very high; he's really working hard at the rehab," he said.
Olazabal, who is troubled by rheumatism, is also determined to return to full health and is targeting a playing return with the top job at the 2010 Ryder Cup at Celtic Manor in south Wales also on the agenda.
The 42-year-old, who was Nick Faldo's vice-captain at the 2008 defeat in Valhalla, said: "I'm just concentrating on this week. I'm not thinking about the Ryder Cup captaincy at the moment -- I'm more concerned about my health."
European chiefs meet in Abu Dhabi next week to discuss Faldo's successor as skipper and victory in Bangkok would do Olazabal no harm at all.
Olazabal, who has won two majors, and Ballesteros formed the most formidable pairing in Ryder Cup history with 11 wins and two halves from 15 matches.
Ivan Ballesteros said of Seve: "He's very positive, he's walking every day and he's determined to get better.
"It's too early to tell if he will play again, but one of his goals is to be Europe captain at the Royal Trophy next year -- and he's serious about it."
Meanwhile, Olazabal has the responsibility of pointing Nick Dougherty, Johan Edfors, Niclas Fasth, Soren Hansen, Pablo Larrazabal, Paul Lawrie, Paul McGinley and Oliver Wilson to victory over Naomichi 'Joe' Ozaki's Asian side.
Ozaki, however, believes his Asian side can win for the first time, saying: "I was disappointed with the result of the last one, but I want revenge and I want to beat Jose Maria's team very badly."
Thai duo Thongchai Jaidee and Prayad Marksaeng are joined by Charlie Wi, SK Ho, Liang Wen-chong, Ryo Ishikawa, Hideto Tanihara and Toru Taniguchi in the Asian team.
E-mail to a friend