200 games under scrutiny in match-fixing probe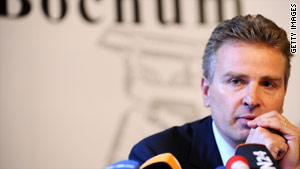 UEFA representative Peter Limacher addresses a news conference in Germany.
STORY HIGHLIGHTS
German prosecutors make 17 arrests in Europe-wide match-fixing scandal
European football governing body UEFA has sanctioned operation
Over 200 individuals said to be involved in betting ring
12 Europa League and 3 Champions League game involved
BERLIN, Germany (CNN) -- German prosecutors said Friday they are investigating a huge match-fixing scandal with more than 200 games under scrutiny and 17 people arrested.
Fifteen of the arrests were in Germany and two in Switzerland.
Police told a news conference in Bochum that more than 50 raids had taken place in Switzerland, Germany and Britain to smash an international gang that allegedly fixed matches to win money on betting.
The games under suspicion are mostly lower league games across nine countries, and not in the major leagues in England, Spain or Italy, authorities said.
But 12 Europa League and three Champions League games are involved, they said.

Video: Alleged match fixing
A qualifying match for the European under-21 championship is also under suspicion, authorities said.
The leaders of the betting ring may have made more than $14 million, police said, and investigators seized $1.48 million in cash and other assets.
The investigation, which was carried out for more than a year by a special unit operating from Bochum, took place with the full knowledge of European football governing body UEFA, which had a representative, Peter Limacher, at the news conference.
"UEFA will be demanding the harshest of sanctions before the competent courts for any individuals, clubs or officials who are implicated in this malpractice, be it under state or sports jurisdiction," UEFA General Secretary Gianni Infantino said in a statement.
The extent of the match-fixing is not yet fully known, and the identity of those arrested has not been made public.
But police said more than 200 people are involved, with players, coaches, referees and other officials implicated.
UEFA President Michel Platini strengthened the organization's betting fraud unit after he was elected in January 2007, and Infantino said the arrests showed that his actions had been justified.
"I would like to thank the German authorities for their action and for the good collaboration," he said. "This case proves that it is possible for a state investigative authority to work closely together with a sports governing body when it comes to corruption or match-fixing."