Kroenke closes on Arsenal takeover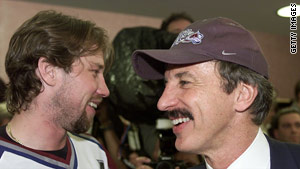 Kroenke (right) shares a moment withi ice hockey star Peter Forsberg at the Stanley Cup finals.
STORY HIGHLIGHTS
Denver businessman Stan Kroenke increases stake in Arsenal football club
Kroenke has 29.6 holding just short of mark to launch formal takeover bid
Russian billionaire Alisher Usmanov has 25.4 per cent share
Arsenal left-back Gael Clichy ruled out for up to a month
(CNN) -- American businessman Stan Kroenke is moving ever closer to a formal takeover bid for Arsenal after increasing his stake in the English Premier League club on Tuesday.
Kroenke, who is already Arsenal's biggest shareholder, has upped his holding to 29.6 per cent, franctionally under the 29.9 per cent figure where he would be required to launch a takeover under British law.
Kronke purchased another 427 in Arsenal's parent holding company at a cost of $5.8 million.
Denver-based sports magnate Kroenke has been edging towards the takeover mark, acquiring 10 shares last week and before that a $1.249 million purchase in October.
Kroenke already owns the Colorado Rapids, the Denver Nuggets and the Colorado Avalanche sports teams in his native Colorado.
He is nicknamed 'Silent Stan' for his low-key approach and declined the opportunity to address fellow shareholders at the club's recent annual general meeting.
Chairman Peter-Hill Wood came to his rescue, warning of public statements of bid intentions under English Stock Exchange rules.
Uzbek-born Russian billionaire Alisher Usmanov is the second biggest shareholder with 25.4 per cent in the north-London club, who have made a fine start to the season under manager Arsene Wenger, but may now be the subject of a takeover battle.
He flirts with the 30 (per cent) but he is not there
--Arsene Wenger
Frenchman Wenger told Sky Sports News on Tuesday that he was unconcerned about Kroenke's latest move "as long as it does not change my vision for the club."
He added: "He flirts with the 30 (per cent) but he is not there.
"I don't know what his intentions are. I have never spoken about that to him."
Arsenal have traditonally operated with a smaller budget than their Premier League rivals such as Manchester United and Chelsea.
Their move to the Emirates Stadium put further drain on their resources and led to speculation of foreign investors taking a bigger stake.
On the field, Arsenal revealed on Tuesday that their French left-back Gael Clichy could be ruled out for up to a month with suspected stress fracture in his back.