Footballer King jailed for sexual assault and punching woman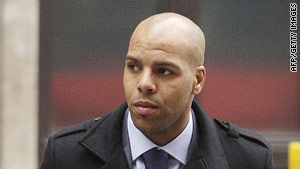 Marlon King's football career is in ruins after being sentenced to jail for assaulting a woman.
STORY HIGHLIGHTS
English Premier League footballer Marlon King jailed for sexual assault
King sentenced to 18 months after also being found guilty of actual bodily harm
The 29-year-old broke the nose of a woman who spurned his advances in a London club
He had been out celebrating scoring a goal and the latest pregnancy of his wife
(CNN) -- An English Premier League footballer has been jailed for sexual assault after groping and then punching a woman while out celebrating both scoring a goal and his wife's latest pregnancy.
Marlon King, born in London but who has represented Jamaica at international level, was sentenced to 18 months in prison on Thursday after also being found guilty of causing actual bodily harm.
The 29-year-old's club Wigan subsequently revealed that his contract would be canceled after a mandatory 40 days' notice.
It will leave him substantially out of pocket, with the hearing revealing that he earns £35,000 ($58,000) a week.
The incident happened at a London club last December while the striker was on loan at Premier League rivals Hull City, a stint which was later cut short after King reacted badly after being omitted from a match-day squad.
London's Southwark Crown Court heard that King attacked a 20-year-old university student when she rejected his advances while he was out celebrating at the Soho Revue Bar, the UK Press Association reported.
He punched her so hard that, as well as breaking her nose, two other revelers -- one of them holding on to his arm trying to restrain him -- were also sent flying.
He had left his wife Julie, a former Miss Zambia, at home despite her telling him that she was expecting their third child, PA reported.
King claimed he was a victim of "mistaken identity" but a series of witnesses, including a football coach who knew him from one of his former clubs, convinced the jury that he was lying, PA reported.
Although they and others told you politely and firmly to leave her alone, you weren't prepared to be ignored.
--Judge Nicholas Loraine-Smith
Judge Nicholas Loraine-Smith summed up the night's events.
"You approached those young women who wanted nothing to do with you. You touched them on their faces and, as the jury have just found by their verdict, touched the complainant on her backside in a way that amounted to a sexual assault," she told the court.
"Although they and others told you politely and firmly to leave her alone you weren't prepared to be ignored. Your response was to boast you were a multi-millionaire and to say that the complainant was not in your league.
"You broke her nose, and that can still just be seen, and you cut her lip. You are 29, you are just over six feet tall and you are a professional footballer. She is a comparatively slight woman, just over five feet tall."
Five days before the assault, King was banned from driving for 56 days following a speeding offence.
The player has had a controversial career, having received an 18-month jail sentence in 2002 for handling a stolen car which was reduced to nine months on appeal.
Prosecuting lawyer Roger Daniells-Smith said that King had been in court on seven previous occasions since the age of 17, PA reported.