Real coach Pellegrini feels heat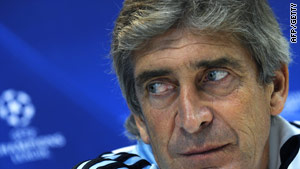 Pellegrini is under the spotlight after his side's disastrous Copa del Rey defeat.
STORY HIGHLIGHTS
Spanish press call for head of coach Manuel Pellegrini after cup defeat
Real lose 4-0 to third-flight minnows Alcorcon in Copa del Rey
Third defeat in five games as Cristiano Ronaldo remains sidelined
"Leave Now" is headline in influential sports newspaper Marca
(CNN) -- Real Madrid coach Manuel Pellegrini is under intense pressure after his side's humiliating 4-0 defeat to third-flight minnows Alcorcon in the Spanish Cup.
It was an astonishing setback for Real, who spent a fortune in the close season transfer market, but were routed at Alcorcon's modest 3,000 seater stadium on Tuesday night.
Real have lost three of their past five games and the Spanish press was quick in calling for the head of Chilean Pellegrini.
"Leave now" was the banner headline in the influential sports newspaper Marca, who added: "The Chilean coach doesn't have the ideas to carry the club forward this season and Madrid's style of play scarcely reflects the enormous investment laid out, the biggest in the history of football."
It added: "Pellegrini personifies ridicule...he can't remain ten seconds longer."
Rival sports paper AS is also predicting that Pellegrini is on thin ice: "One more defeat will cost Pellegrini his job," it claimed.
Pellegrini himself labeled the last 32 first leg shock a "disgrace" and received further disappointing news on Wednesday as star signing Cristiano Ronaldo was ruled out of the weekend league match against Getafe and the midweek Champions League clash with AC Milan.
Pellegrini personifies ridicule...he can't remain ten seconds longer
--Spanish sports paper Marca
Real have struggled without the Portuguese star, but fielded a strong side at Alcorcon including strikers Karim Benzema and Raul.
Defensive frailties again cost them dear and they were behind after 16 minutes when Francisco Borja scored.
Alvaro Arbeloa scored a disastrous 22nd own goal to put the home side 2-0 ahead and in the 40th the unmarked Ernesto Gomez tapped home a third.
Borja scored his second and Alcorcon's fourth early in the second half and they comfortably held out against the assorted Real stars.
"The truth is that it feels like a dream," Borja said.
But defeat for Real was a nightmare for Pellegrini, who reportedly was involved with a halftime argument with midfield favorite Guti.
They trail arch-rivals Barcelona by three points going into Saturday's match against Getafe and with Pellegrini's job on the line.