(CNN) -- France, Portugal, Russia and Greece have been confirmed as the seeded teams for Monday's World Cup European playoff draw.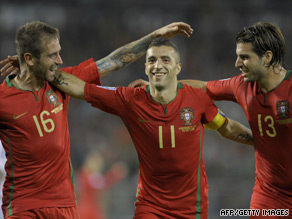 Portugal sealed their place in the playoffs with a 4-0 victory over Malta on Wednesday.
The quartet, who all finished second in their respective qualifying groups, earn their seeded status due to being the top four of the eight playoff teams in the latest FIFA world rankings.
The unseeded pot includes the other four best runners-up; Ukraine, Republic of Ireland, Bosnia-Herzegovina and Slovenia.
Raymond Domenech's France are the top-ranked playoff team in ninth position, one ahead of Portugal who clinched second place in Group One on Wednesday.
Carlos Queiroz's side have risen seven places in the rankings thanks to their positive end to the qualifying campaign.
Don't Miss
Guus Hiddink's Russia, who finished second in Group Four behind Germany, slip six spots to 12th while 2004 European champions Greece lie 16th.
Ukraine, who spoiled England's perfect qualifying record with a 1-0 win in Dnipropetrovsk last Saturday, are the top-ranked unseeded team at 22nd with Giovanni Trapattoni's Republic of Ireland 34th, Bosnia-Herzegovina 42nd and Slovenia 49th.
Brazil have maintained a slender advantage over European champions Spain, the Netherlands and world champions Italy -- who topped Groups Five, Nine and Eight respectively -- in the latest FIFA world rankings.
Germany dropped one to fifth while Argentina, who clinched their place in South Africa from the South American zone with a 1-0 win over Uruguay in Montevideo on Wednesday, climb two places to sixth.
Hosts South Africa (85th) and North Korea (91st) are the only teams from outside the top 50 who will be present at next year's tournament
E-mail to a friend