(CNN) -- Diego Maradona could have compromised his role in Argentina's World Cup build-up after world governing body FIFA announced they are to investigate his conduct in a reportedly obscene TV interview following his side's 1-0 win over Uruguay.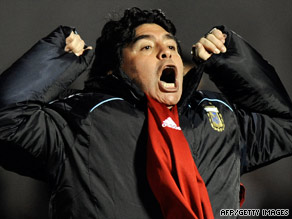 Argentina coach Maradona could face a five-match ban after reportedly giving an obscene TV interview.
The victory saw Argentina confirm their qualification for the finals next year and, after a period of prolonged criticizm of his tenure, Maradona responded with some choice words in his post-match questioning.
FIFA have confirmed they will be looking into the incident and if found guilty, they could present him with a five-match ban -- something that would significantly disrupt his planning for South Africa.
FIFA president Sepp Blatter, speaking in Cairo, said: "The media reports we have received so far leave us with with no alternative but to ask the disciplinary committee of FIFA to open a case against the coach of Argentina, Diego Maradona."
FIFA are understood to be investigating the colorful 48-year-old's comments as a potential breach of Article 58 of their disciplinary code.
Don't Miss

The relevant passage reads: "Anyone who offends the dignity of a person or group of persons through contemptuous, discriminatory or denigratory words or actions concerning race, color, language, religion or origin shall be suspended for at least five matches.
Furthermore, a stadium ban and a fine of at least 20,000 Swiss francs shall be imposed."
E-mail to a friend