(CNN) -- Le Havre teenager Paul Pogba is to become a Manchester United player after FIFA approved his transfer to the English Premier League champions.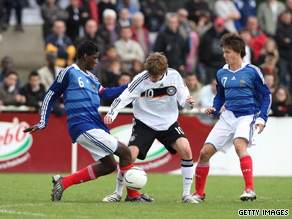 Manchester United had vehemently denied any wrong-doing in the signing of Paul Pogba (left).
Pogba, 16, has been caught up in a battle between United and Le Havre, which appeared to have similarities with the case that has landed Chelsea with a ban on signing players for the next two transfer windows.
At one point, United felt compelled to issue a court warning to Le Havre president Jean-Pierre Louvel -- such was the nature of his criticizm of the club.
Now the Old Trafford outfit have been vindicated in their stance after a judge, appointed by FIFA to rule on the case, upheld United's claim that Pogba could not have been offered financial inducements to break a contract -- because he did not have one.
"Manchester United is pleased to confirm that the Football Association has been authorised by FIFA to register Paul Pogba as a Manchester United player with immediate effect," said a statement on the club's official Web site.
Don't Miss
Le Havre insisted inducements had been offered to break a contract, something the club immediately denied, a stance reinforced by manager Sir Alex Ferguson, who insisted it has never been club policy to pay the parents of players, as had been alleged.
In fact, the argument never even got that far as the judge decided Pogba was still an amateur because he had never received anything beyond normal expenses to play for the club. And, because of his age, Le Havre could not have got an agreement for him to sign a professional contract anyway.
In delivering his judgment, the judge accepted Manchester United's argument as to why international transfer clearance should be issued immediately, dismissing all Le Havre's submissions.
E-mail to a friend