(CNN) -- The English Football Association have written to Manchester United manager Sir Alex Ferguson, asking him to explain comments he made about referee Alan Wiley following the 2-2 draw with Sunderland.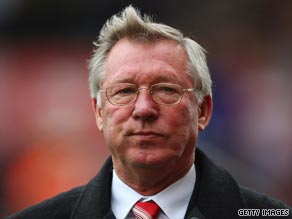 Ferguson has been asked to explain his recent comments made about referee Alan Wiley.
Ferguson claimed the 49-year-old official was unfit after taking charge of the Premier League match at Old Trafford on Saturday.
"He was not fit enough for a game of that standard," said Ferguson after the match. "The pace of the game demanded a referee who was fit. He was not fit. It is an indictment of our game.
"You see referees abroad who are as fit as butchers' dogs. We have some who are fit. He wasn't fit. He was taking 30 seconds to book a player. He was needing a rest. It was ridiculous."
Ferguson has frequently courted controversy for his comments about referees over the years. He was warned about his conduct in 2008 after criticising referee Martin Atkinson for failing to give United a penalty in their FA Cup quarterfinal defeat by Portsmouth.
And in 2007 he questioned Phil Dowd's competence after the referee sent off Paul Scholes and Wayne Rooney in United's 2-0 Premier League defeat at Fulham.
Don't Miss
However, no further action will be taken against Blackburn manager Sam Allardyce who criticised referee Peter Walton for not giving his side a penalty in Saturday's 6-2 defeat at Arsenal.
"It was a blatant penalty. There is no doubt in my mind that the position of the referee was excellent," said Allardyce.
"He just didn't, unfortunately, give the decision in our favor. In the big pressure pot that is this league, you have got to get the major decisions right otherwise you don't stay in this league too long, not as a manager or a player, so as a referee you have got to be judged the same."
E-mail to a friend