(CNN) -- Arsenal chairman Peter Hill-Wood has reiterated that the English Premier League club's ambitions on the pitch remain the priority after the Gunners released their financial results for 2009.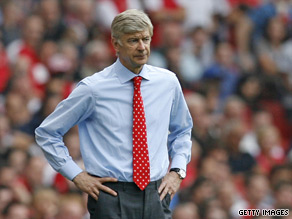 Arsenal manager Arsene Wenger has invested heavily in promising young players.
Arsenal Holdings - the club's parent company - revealed that turnover has increased to $501.72 million with a record after tax profit of $56.37m for the financial year ending May 31.
The majority of Arsenal's net debt, which has fallen to $476.74 from $509.24, is fixed to their Emirates Stadium after the move from Highbury which is currently being repaid at a fixed rate of around $32m per year.
The result is that Arsenal manager Arsene Wenger is under pressure to deliver Champions League football as a minimum required standard.
Wenger has been reluctant to spend heavily on new playing staff and has placed an emphasis on bringing through young talent but Hill-Wood is adamant the Gunners remain committed to matters on the pitch,
"The group's profits have now risen in each of the three years in which Emirates Stadium has been our home. This is excellent news, although I should perhaps stress that making and reporting profits is not in itself the primary objective for the directors," Hill-Wood said in his report on Arsenal's Web site.
"First and foremost we are supporters of this great football club and, as such, our main goal will always be the achievement of success for Arsenal on the field.
Don't Miss
"The group's profitability is important because it is a by-product of running the club as a solvent and successful business, which in turn allows us to maximize the level of investment in the playing staff and in the future development of the club.
"Arsene has the resources to bring more players in, if he believes doing so will add to the quality which we already have in the squad."
The club's reluctance to spend has seen calls for further outside investment, including proposals such as a new rights issue to generate transfer funds, but Hill-Wood believes such a move would go against the ethos of the club.
He added: "In the final analysis I believe it distills down to a decision about whether it is appropriate to raise money from shareholders to purchase the registrations and pay the wages of footballers.
"This is not something that Arsenal has ever done previously in its history and it would be at odds with our ethos of running the club as a business which is self-sustaining and pays its own way in the world."
Meanwhile, Wenger confirmed he is set to be without striker Nicklas Bendtner for the Gunners' Champions League tie against Olympiakos after the Denmark international was involved in a minor car accident on Sunday.
"Nicklas did not practice because he had a car accident on Sunday," Wenger said in a press conference on the eve of the match against the Greek side.
"Fortunately there was no real long-term damage, but he was bruised and we thought it better he did not train."
Wenger will also miss Brazilian Denilson, who will be out for two months with a fracture to his back while goalkeeper Manuel Almunia is still unavailable with a chest infection, so Vito Mannone will continue.
E-mail to a friend

All About Robin van Persie • Arsenal FC • European Football • Barclays Premier League • The F.A. Premier League