(CNN) -- FIFA president Sepp Blatter has criticized the leading clubs in Europe for not allowing eligible players to feature for their country at the current Under-20 World Cup in Egypt.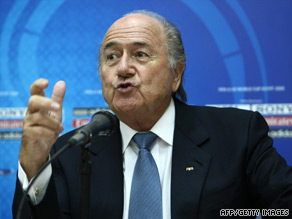 FIFA president Sepp Blatter has hit out at Europe's top clubs for not releasing players for the U-20 World Cup.
The 24-team tournament -- that runs from September 24 to October 16 -- is missing a host of young talent from Italy, Germany and England -- who have been forced to stay at home because of club commitments.
Blatter told reporters: "It's not right that the big European clubs don't free up their young players for the World Cup, when they don't have any obligations and are not in the first team.
"When they aren't playing they can't gain experience. It's better for them to enjoy the second major world competition than to stay at home warming the substitutes bench." Blatter added.
Don't Miss
Manchester United pair Danny Welbeck of England and Federico Macheda of Italy are both eligible to play in the tournament, but instead represented their club in the Carling Cup on Wednesday against Premier League rivals Wolverhampton.
The German clubs refused to release their players after a meeting with the German football Federation (DFB) in August, while the Football Association (FA) was similarly understanding with English clubs.
The Italians seem to be the big sufferers at the tournament, without the likes of Manchester United's Macheda, Roma's Stefano Okaka Chuka, and Inter Milan's Davide Santon.
E-mail to a friend