By Chris Murphy
CNN





(CNN) -- Alex Ferguson has branded English Premier League rivals Manchester City "cocky" ahead of their top-of-the-table derby clash with United on Sunday.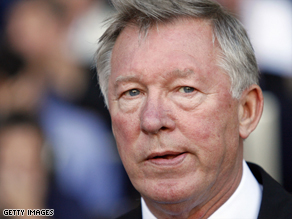 Alex Ferguson has hit out at Manchester United's city rivals ahead of this weekend's derby game.
The Manchester United manager also launched a barb at former Red Devil Carlos Tevez, saying he didn't care if the Argentina striker was fit or not to feature in the game at Old Trafford.
Mark Hughes has spent $195 million during the preseason trying to break into the top four and have won their first four Premier League games of the campaign -- a run of form that has impressed Ferguson.
But the Scot was less concerned about the fitness of Tevez, who is struggling with a knee injury. "It doesn't bother me one bit -- I think their best player is not playing," Ferguson said at his pre-match press conference.
"Adebayor has been their star player, there is no question about that. He has scored in every game. That's their loss really." Adebayor: Hero or villain?
Speaking exclusively to CNN former United goalkeeper, Peter Schmeicel, says Ferguson and his players should expect a tough game whoever turns out for the visitors.
Schmeicel, who spent eight years at United, thinks despite missing a string of expensive players, City will still take some beating.
He said: "One question you're asked all the time is 'will it be easier, because they are not there' and I'm thinking, it never makes it easier. Sometimes it makes it even harder.
"It's so much better to play against the players you know, you know the quality, you know how they play because you see them every week rather than playing against players that you don't see every week, players that are very, very hungry and will take their opportunity."
Sunday's game is United's first Manchester derby without Cristiano Ronaldo, who left for Real Madrid in the summer but Schmeicel, who also represented Manchester City for a season, insists Wayne Rooney can fill the void left by football's most expensive player.
"Of course it's very difficult to recover from losing the best player in the world at any given time, but we've done that before with Cantona, Beckham and we've recovered and I think that the experience that Alex has, the club, we'll recover from this as well, but it will take a little bit of time.
"But you know, he [Ronaldo] took up so much time at Manchester United, he's left a space for someone else to jump into and the way that, for instance, Wayne Rooney has started the season, you know, maybe he will just take that space and become the best player in the world."
Schmeicel is also well placed to judge on the current goalkeepers at Ferguson's disposal, but he says Edwin van der Sar will reclaim the number one jersey from Ben Foster as soon as he returns to fitness.
"Manchester United need Van der Sar and I think that's been proven over the last couple of years. That's got nothing to do with Ben Foster whatsoever because what he's done so far has been really good.
"Every game he gets he should really take that as an opportunity to develop himself, but once Van der Sar is ready and fit again, he should be back in goal. And particularly post-Ronaldo, its important that once we get to the very important stages of the season we get the core of the team back."
What do you think? Would Carlos Tevez make a difference in the derby?
E-mail to a friend

All About Carlos Tevez • Manchester City • Manchester United • Alex Ferguson