(CNN) -- English Premier League leaders Chelsea have announced that chief executive Peter Kenyon is to leave his full-time role at the club at the end of next month.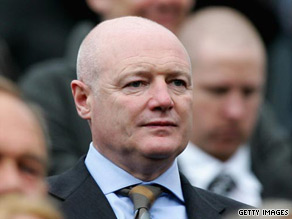 Kenyon is leaving his position after five successful years as Chelsea chief executive.
Kenyon, who left Manchester United in 2003 to join the London club, will depart at the end of October but will continue to represent Chelsea in various capacities, including committee roles with UEFA.
Kenyon told the club's official Web site: "I intend to take a little time off before considering what I do next but I am certain I have at least one major challenge left in me."
He continued: "I am extremely proud of my time at Chelsea and of the friendships I have forged with everyone here.
"I have been in football for 15 years and I can say with great certainty and pleasure the experience at Chelsea is one of the best I have had.
"When I joined Chelsea it was an incredible challenge and together with all the staff, the players, the board and Roman, I think we have really built a club, in a relatively short space of time, that can be in the forefront of European football for many years to come. That is a major achievement.
"I am also delighted that our relationship is not ending and I can continue to make a contribution to keeping Chelsea in that position and to go back to visit friends."
Don't Miss
Kenyon, who had to go on 'gardening leave' between leaving United and officially taking up his Chelsea role in early 2004, has been a key public figure in the club's off-the-field transformation.
Under owner Roman Abramovich, Kenyon took charge of the business side of the club, with Chelsea having a long-term project of becoming one of the world's most successful and best supported clubs, as well as being profitable.
Chelsea have been Premier League champions twice since Kenyon's arrival, with Jose Mourinho behind both title triumphs, and they also reached the 2008 Champions League final.
Speculation that he would leave Stamford Bridge began earlier this summer, and reports linked him with Manchester City following the Abu Dhabi takeover at Eastlands.
Chelsea chairman Bruce Buck said: "Peter has done a fantastic job for Chelsea in the last five-and-a-half years and has been absolutely central to the success on and off the field we have had during that time.
"Without his football knowledge and business acumen Chelsea would not be where we are today.
"Everyone at Chelsea thanks him for that contribution and although he will not be with us on a permanent basis he will have an important role to play as a non-executive director and in the various roles he holds in European football bodies.
"When Peter first joined us we knew we were recruiting a top executive from business generally, not just football. With that always came a certain inevitability he would eventually want to seek a new challenge and I am sure that is what he will do."
E-mail to a friend