(CNN) -- The English Football Association has hit Manchester City striker Emmanuel Adebayor with charges of violent and improper conduct following the Togo captain's performance against his former club Arsenal.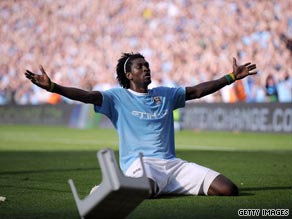 Adebayor has been charged by the FA for his goal celebration in last Saturday's defeat of Arsenal.
Adebayor was involved in an ugly incident with Arsenal forward Robin Van Persie during City's 4-2 victory in the Saturday's English Premier League clash.
The striker, who joined City for $41 million from Arsenal in the summer, then enraged the visiting fans when he ran the length of the field to celebrate in front of them after scoring for the fourth successive game.
A statement on the governing body's official Web site read: "Under the fast-track disciplinary process, Adebayor has been charged with violent conduct following an incident with Robin van Persie, which resulted in the Arsenal player receiving facial injuries.
CNN's Pedro Pinto thinks Adebayor should be punished. Do you agree?
"Referee Mark Clattenburg has advised the FA that he did not see this incident, but has confirmed that had he done so, he would have sent Adebayor off for violent conduct."
Don't Miss
A charge of improper conduct has also been given to the player following his actions after scoring City's third goal.
Adebayor went down on his knees in front of a section of the stands holding Arsenal supporters, a move that prompted British police to write to the FA with their views on this incident.
The player has until 1700 GMT on September 16 to respond to the charge of violent conduct, while a new date is to be arranged for a commission to consider Adebayor's goal celebration.
The FA added: "[We] would like to see anyone found guilty of such behavior face action through the legal system and banning orders from football.
"We will continue to work with [other bodies] to help remind players of their responsibilities, especially in highly-charged situations."
Meanwhile, north of the border in Scotland, George Burley's immediate future as national team manager has been confirmed.
The 53-year-old's position had been in doubt after the Scots failed to qualify for the World Cup finals, with the 1-0 defeat by the Netherlands meaning that even a playoff place was not possible.
However, he is now expected to remain at the helm for the qualifying fixtures for Euro 2012 following a meeting with Scottish Football Association officials on Monday.
"We all acknowledge that there have been disappointments over the past year and that we have not met our objective to qualify for the World Cup," SFA chief executive Gordon Smith said on Tuesday.
"However, what is also clear is that George and his players have shown that they are moving in the right direction. George has been rebuilding his squad and brought through many young players who he feels will bring us success in the years to come.
"That is why we have today given our full backing to George as Scotland national coach. The next competitive match is not for another 12 months and this gives George and his players the chance to continue to grow and develop together.
"This is not the time for change, it is a time to invest faith in the manager and the players."
E-mail to a friend

All About Emmanuel Adebayor • Robin van Persie • Manchester City FC • Arsenal FC • European Football