By James Montague
for CNN





CNN -- Emmanuel Adebayor has been charged twice by the English FA following last Saturday's bad-tempered match between his former team Arsenal and current paymasters Manchester City.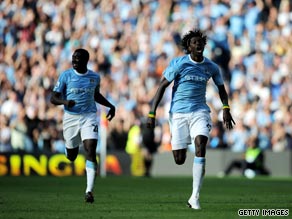 Emmanuel Adebayor celebrates his goal for Manchester City against Arsenal.
The first charge is for improper conduct following the Togo captain's exuberant celebrations in front of the away fans. The second is a far more serious count of violent conduct for raking his studs down Robin Van Persie's face.
For many fans who follow the English Premier League across the globe, it seems like an open and shut case. Adebayor ran the length of the pitch to celebrate in front of Arsenal's fans after he had scored late in the game, which provoked a furious response.
Have your say. Does Adebayor deserve to be punished harshly?
Everything from cheese baguettes to plastic chairs were hurled down on the pitch by Arsenal's supporters, who had previously revered Adebayor. One steward was knocked unconscious in the melee, a melee for which the British police have firmly pinned the blame on Adebayor.
Robin Van Persie has claimed that Adebayor's actions were deliberate and could have taken out an eye. The referee, Mark Clattenburg, missed the incident but, on reviewing it, said he would have sent Adebayor off if he had seen it.
Blog: CNN's Pedro Pinto wants action to be taken.
So, guilty as charged then. Well, maybe not. Does Emmanuel Adebayor really deserve harsh sanctions such as a lengthy ban?
Don't Miss
Despite scoring a goal every three games for Arsenal, Adebayor had seen his relationship with the club's fans deteriorate after protracted transfer sagas involving AC Milan and Manchester City.
He was regularly booed by his own and, on a number of occasions, taunted in the street. Some of the chants against Adebayor during the Manchester City game were reported to have racist content.
Adebayor apologized after the game for confronting the Arsenal faithful, an apology which City manager Mark Hughes believes should be enough to close the issue, but said the constant stream of abuse that rained down from the away section contributed to his reaction.
And while his goal celebration might be viewed as foolhardy by some, he didn't actually contravene FA rules, celebrating as he did on the pitch, with his shirt on.
He later apologized for his challenge on Van Persie too, saying it was unintentional. The FA will now have to decide whether Adebayor is telling the truth.
What do you think? Does Emmanuel Adebayor deserve to spend an extended period banned from the game? Or were his celebrations a case of just desserts, and his clash with Van Persie purely accidental? Have your say.
E-mail to a friend

All About Manchester City FC • Arsenal FC • Emmanuel Adebayor • The F.A. Premier League