(CNN) -- Manchester City's Brazilian striker Robinho has admitted that he would struggle to resist any future possible transfer to European champions Barcelona.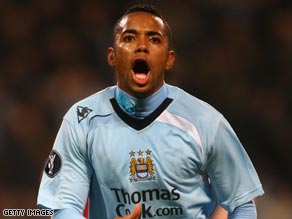 Robinho has once again suggested he would be open to leaving Manchester City for Barcelona.
According to media reports, Robinho was a major target for Barcelona this summer, but they were unable to prise him away from the English Premier League big-spenders.
However, the former Real Madrid striker has made it clear that he is tempted to return to Spain should Barcelona come calling next year.
Speaking to the Guardian newspaper while on international duty with Brazil, Robinho said: "It's not easy to say no to a club like Barcelona.
"They are the European champions, it is a lovely city and I like Spain a lot.
"I have always wanted to play for a club like Barcelona. It's a great club, any player would be happy for them to show an interest.
Don't Miss
"I'm happy that Barcelona have taken notice of me. Who wouldn't like to play alongside Xavi, Andres Iniesta, Lional Messi, Zlatan Ibrahimovic and all the rest."
Barcelona have been searching for a left-sided attacker since the end of last season and have been linked with Robinho, Valencia's David Silva and Bayern Munich's Franck Ribery.
E-mail to a friend