(CNN) -- French Football chiefs are playing down reports of a bust-up between the players and coach Raymond Domenech ahead of Wednesday's crucial World Cup qualifier in Serbia.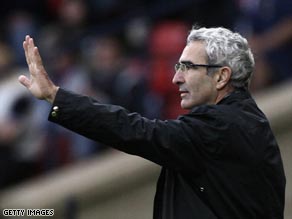 Coach Domenech's future has again come under scrutiny after reports of a rift in the France squad.
Les Bleus' hopes of automatic qualification for South Africa 2010 could rest on the outcome in Belgrade with the star-studded France squad knowing a defeat will mean top spot in Group Seven is no longer a possibility.
Domenech's side have been the architects of their own downfall with another sub-standard display resulting in a 1-1 draw against Romania at the Stade de France on Saturday.
The spirit in the camp has not been helped by revelations on Monday morning of a pre-match row involving Domenech and his players, led by striker Thierry Henry.
The Le Parisien newspaper reported that Domenech tried to spark a reaction from his players prior to the Romania game by questioning their hunger.
Don't Miss
Henry is believed to have responded on behalf of the squad by stating the players were uninspired by training sessions before adding: "I have been in the France team for 12 years and never have I been in this situation before.
"We do not know how to play, where to go, there is no organization. There is no style, no guidance and no identity."
However, the French Football Federation (FFF) insist there is "no urgency" to speak about the matter -- but the reports are sure to pose further questions about Domenech's position, which could become untenable should the team not qualify.
FFF president Jean-Pierre Escalettes pledged his support to Domenech saying: "I repeat: yes, yes, yes. I have to say it three times. He has the job of qualifying us for the World Cup.
"And I repeat that even if we have to go into the play-offs, it's still Raymond Domenech's job."
France have two injury worries for Wednesday's game with doubts over Julien Escude and Franck Ribery.
Defender Escude, who scored an own goal on Saturday, is least likely to play with Ribery's problem a continuation of a calf injury which has hampered his Bundesliga season with Bayern Munich.
E-mail to a friend