(CNN) -- Croatia coach Slaven Bilic admits the loss of Luka Modric to injury could be significant and is expecting a group effort against England next week to compensate for the Tottenham playmaker.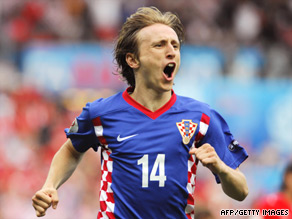 Luka Modric's absence is a major setback as Croatia aim to get a result against England next week.
Modric will miss next week's World Cup qualifier at Wembley with a fractured leg, with Fabio Capello's side needing a win to book their place in South Africa next year.
"Modric is one of our top players," Bilic told reporters. "He is making a difference every week for Tottenham, so we are missing him.
"It will be difficult to compensate, because we do not have an equivalent player to him. But we are going to try, working with the whole team. Modric is a top, top player, but he is not the only player in our team that has such skilful characteristics.
"We have Niko Kranjcar, we have Ivan Rakitic -- so every one of us has to do something more to make up for the loss of Modric.
Don't Miss
"In the last three years -- this is my fourth now -- I know that we have a group of players who can cope with anybody. We can compete at any level, we have our chances to beat anybody."
Bilic's side famously dumped a Steve McClaren-led England out of Euro 2008 qualifying two years ago.
Arsenal forward Eduardo was playing that evening but three months later suffered an horrific ankle injury, so Bilic knows what is required to cope without one of his match-winners.
"Of course there are some players you cannot do without," Bilic added. "If you are missing Eduardo for a long time, as we did, then you are going to feel that absence in the way you are playing. With players like Eduardo and Modric and with a little bit of luck we can beat any team in the world," added Bilic.
E-mail to a friend