By Ben Wyatt
CNN






(CNN) -- Ivory Coast midfielder Yaya Toure has told CNN that a resurgence of Real Madrid -- who have spent over $350 million on new players in the close season -- has reined in any advantage Barcelona had over their Spanish rivals.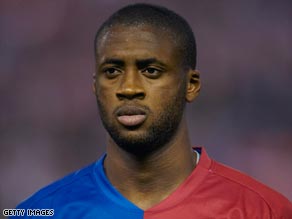 Yaya Toure has spoken exclusivley to CNN about the forthcoming Spanish season.
Despite the all-conquering nature of the Catalan squad over the previous 12 months the 26-year-old has already conceded that it will be difficult to replicate similar success with Real's new roster of talent.
"Madrid are a big, big side. The title race will be 50-50, nothing between the sides, especially with the acquisitions that Real Madrid have made, [with the likes of] Cristiano Ronaldo and Kaka. And let's not forget Valencia and Villareal, they will be strong too."
Toure -- who helped Barcelona win the La Liga title, the Champions League and the Copa Del Rey last season -- is expected to be in the starting line up for the Catalan club's campaign-opener against Sporting Gijon on Monday.
Barcelona's feat of winning an unprecedented Spanish treble last season will only have increased the determination of opposition sides to beat them in the coming campaign according to Toure.
"To achieve the same again will be very difficult, because of what happened last season Barcelona are the team everybody wants to beat and that will make our job very hard," Toure added.
In what could prove a key transfer for the club, Barcelona signed Sweden striker Zlatan Ibrahimovic for $65 million from Italian side Inter Milan in a deal that saw Cameroon hot-shot Samuel Eto'o move as part of the package.
Toure added that it was a blow to lose such quality from the side: "Eto'o was a very important player for Barcelona. For me Samuel Eto'o is one of the best strikers around and was a very important player for Barcelona.
"We only have two Afican players at the club now so the dynamic has changed, but we now have Zlatan and he's a great player too."
Domestic issues aside, Toure is looking ahead to 2010, when the World Cup will be held in Africa for the first time in its history -- a tournament in which the powerful midfielder has high hopes for his national side, Ivory Coast.
"It's the first time the World Cup will be in Africa so as an African player it means a lot. My national side has great players like Didier Drogba, Salomon Kalou and my brother Kolo -- so I think we have as a good a chance as any team."
E-mail to a friend

All About Cristiano Ronaldo • Kolo Toure • FC Barcelona • Real Madrid CF