(CNN) -- Everton have confirmed the signing of Russia midfielder Diniyar Bilyaletdinov from Lokomotiv Moscow for an undisclosed fee.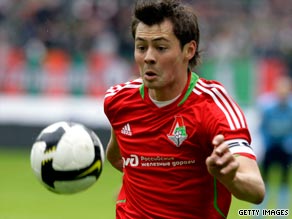 Russian Bilyaletdinov has signed a five-year contract with Everton for an undisclosed fee.
The 24-year-old met with club officials on Monday in Hamburg -- he is permitted to enter Germany with a Russian passport without a visa -- and signed a five-year contract.
Bilyaletdinov will now return to his homeland to complete the formalities of a visa application to enter Great Britain.
"We are delighted to have secured the services of Diniyar," Everton chief executive Robert Elstone told the club's official Web site.
"I know manager David Moyes has wanted to bring him to the club for some time and we look forward to welcoming him."
Bilyaletdinov will not be eligible for Thursday's Europa League play-off second leg against Sigma Olomouc and is unlikely to be in England for Sunday's Premier League clash with Wigan.
Don't Miss
He is due in the country early next month for Russia's World Cup qualifier against Wales and is expected to link up with his new team-mates for the first time ahead of the following weekend's trip to Fulham.
The player has won 28 caps for his country and played in every game during last summer's memorable run to the Euro 2008 semi-finals under Guus Hiddink.
Meanwhile, Everton defender Joleon Lescott's immenent transfer to Manchester City has still not been confirmed despite a transfer fee of $39m being agreed between the clubs.
E-mail to a friend