By Stephanie Busari
CNN





LONDON, England (CNN) -- With a 4-1 scoreline, a penalty and a sending-off all within the first 45 minutes, Wednesday's international friendly between Ghana and Zambia was anything but.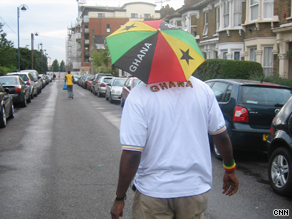 A Ghana supporter heads to the game against Zambia in London on Wednesday
It was fiercely-fought match that saw Zambian defender Dennis Banda sent off for a reckless tackle two minutes before the end of the first half.
And while Ghana's Black Stars were handing Zambia's Chipolopolo ("the Copper Bullets") a 4-1 bashing on the rain-soaked pitch, their fans were having a bash of their own -- complete with trumpets, drums and horns.
For many of the Ghanaian fans, the game being played on the pitch was completely incidental, they were here to party in the carnival-like atmosphere.
They showed the Zambian fans that nobody quite does it like Ghanaians as their chanting, dancing and loud singing reverberated around the half-empty Leyton Orient stadium in London's East End.
The subdued cheers of the minority Zambian contingent were emphatically drowned out in the stands, which were a sea of green, red and yellow -- the colors of the Ghanaian flag.
"If you think this is bad, wait till the World Cup. Nobody parties like Ghana fans," said one supporter named Lydia.
By the second half, the game had lost its steam but there was no dampening the spirits of the Black Stars' fans, who gave their captain Stephen Appiah a rapturous applause when he made an appearance.
With chants of his nickname "Tornado, Tornado" ringing in his ears, Appiah took over the captain's armband relinquished by Chelsea star Michael Essien.
Don't Miss
Watching calmly from the stands was one of Ghana's top scorers, Matthew Amoah, who was sidelined because of a hamstring injury.
Amoah, who plays for Dutch side NAC Breda, told CNN before the game started that he was disappointed not to play in the friendly.
"It's just one of those things, I should be back playing in two weeks' time," he said.
He added that he was excited about the World Cup going to Africa for the first time next year.
"I believe that Ghana could go far because we got to the last 16 in the last World Cup," he said.
"Maybe semifinals or even the finals, we have the quality in the team to go far."
And arguably some of the best supporters in the world.
E-mail to a friend