(CNN) -- Michael Schumacher has called off his eagerly-anticipated Formula One comeback with Ferrari because he has not recovered from a neck injury he sustained in a motorcycling accident earlier this year.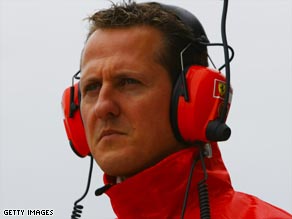 Michael Schumacher has called off his much-anticipated return to Formula One.
Schumacher was due to replace the injured Felipe Massa for the Italian team at the European Grand Prix in Valencia on August 23, but announced on his personal Web site that these plans have now been scrapped.
"Unfortunately I'm not able to step in for Felipe," the statement read.
The seven-time world champion added "the consequences of the injuries caused by the bike-accident in February, fractures in the area of head and neck, unfortunately have turned out to be still too severe."
The 40-year-old German was due to start a two-day test session on Tuesday at the Italian circuit of Mugello ahead of his return.
An earlier one-day test behind the wheel of a 2007 Ferrari had given the first hints that Schumacher was struggling for fitness.

Michael Schumacher's career in pictures. »
Don't Miss
Last week, he told his Web site www.michaelschumacher.de:
"I only have to admit that my neck pinches a bit. We have to get a grip on that as health has priority -- that's the clear arrangement made with Ferrari and, by the way, with my wife, too,"
Reports in Italy's sport newspaper Gazzetto dello Sport say that Ferrari test driver Luca Badoer will now replace Massa in Valencia.
Massa is recovering in Brazil from the serious injuries he received in a freak crash in qualifying for the Hungarian Grand Prix and is set to miss at least four races.
Schumacher has worked as a special adviser to Ferrari since his retirement from Formula One in 2006, after winning five championships during his time with the team to add to the two he won at Benetton.
His seven world titles surpass the five won by the Argentine legend Juan Manuel Fangio and his tally of 91 grand prix wins from 250 races is also a record.
Schumacher broke the news that he would not be returning to Ferrari president Luca di Montezemolo and team principal Stefano Domenicali on Monday evening.
His decision followed a further thorough examination of the extent of his neck injury.

"I really tried everything to make that temporary comeback possible, however, much to my regret it didn't work out," he said.
"I can only repeat that I tried everything that was within my power. All I can do now is to keep my fingers crossed for the whole team for the coming races."
E-mail to a friend