(CNN) -- Arsenal manager Arsene Wenger has refused to rule out a sensational swoop for the English Premier League club's former midfield general Patrick Vieira.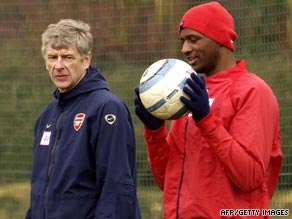 Arsene Wenger, left, is debating whether to bring back former Arsenal captain Patrick Vieira, right.
The veteran France international is expected to leave Italian champions Inter Milan, and has been linked with a return to Arsenal following rumors that he is also wanted by north London rivals Tottenham.
Wenger has been at pains to insist that he does not need to strengthen his squad, despite the departure of striker Emmanuel Adebayor and defender Kolo Toure to Manchester City.
But the Frenchman has admitted that the 33-year-old Vieira is keen to come back to the club he left for Juventus in 2005 after nine trophy-laden years.
"He has gone through a difficult period in the last season and I am aware that he wants to come here," Wenger told reporters.
"I think Patrick is a legend here and he would always like to come back to this club. That would be his first choice. "He is a professional footballer with emotion and you always like the club where you've spent time.
"At the moment we need to look at the level of experience in our squad to make this kind of decision. There is a football decision and then there's the psychological impact of a player of that stature coming in.
"We are nowhere near to making a decision like that. But it is a possibility. We don't rule it out and we don't say we will do it. That's my decision at the moment."
Wenger believes his squad has enough depth to improve on last season's performance, despite having slipped below Liverpool to the bottom of the EPL's "big four."
"This team has improved a lot as compared to last season. They played 21 games unbeaten from November until the end of the season," he said.
"We reached the semifinal of the Champions League and FA Cup. We have a squad which is very ambitious. We have the basic quality, they have international quality and are under 23, so their best time is now.
"We have developed a style and culture of play that everybody accepts, so I feel confident and very strong. Our focus should not be who can help us from outside, but who can help us from inside."
E-mail to a friend

All About Patrick Vieira • Arsene Wenger • Arsenal FC • FC Internazionale Milano • European Football