(CNN) -- Former Chelsea striker Adrian Mutu has lost his appeal against a FIFA ruling that he must pay the English Premier League club €17 million $25.3 million) in compensation for breach of contract.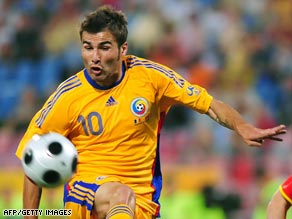 Friday's ruling by the CAS is a massive blow for Romainian international Mutu.
Mutu was sacked by Chelsea after he tested positive for cocaine in 2004 and given a seven-month worldwide ban from football.
The Romanian international cost Chelsea £15 million (now $24.7 million) when he signed from Parma the year before and after serving his ban he moved to Juventus and then Fiorentina back in Serie A.
FIFA made the original award against Mutu in May last year and he immediately launched an appeal against an "unjust and inhumane sentence."
But on Friday a three-man panel of the Lausanne-based Court of Arbitration in Sport upheld the ruling.
"The CAS panel concluded that the appeal brought by the player was to be dismissed and the measure of damages, as awarded by the DRC (FIFA), was to be confirmed," read a statement.
"Adrian Mutu must therefore pay 17,173,990 euros to Chelsea FC," it added.
There was no immediate comment from Chelsea, but when FIFA announced its verdict last year, the West London club called it a "very significant decision for football."
Mutu's fine was based on lost earnings and was calculated on the length of time his contract had left to run. It was the highest ever handed down by world governing body FIFA.
The 29-year-old Mutu received support from world players' union FIFPro and the Romanian Footballers' Trade Union in his protracted legal battle.
E-mail to a friend

All About Adrian Mutu • FIFA • Chelsea FC • Drugs in Sports • European Football