(CNN) -- English Premier League Manchester City have recouped some of the $150 million they have spent on players this summer by confirming the sale of Brazilian international midfielder Elano to Turkish club Galatasarary for an undisclosed fee.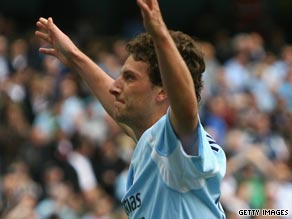 Elano was a huge fans' favorite at Manchester City before falling out of favor with manager Mark Hughes.
The 28-year-old Elano, who scored 18 goals in 80 appearances for City and has played 35 times for Brazil, has signed a four-year contract with his new club.
Elano fell out of favor with City manager Mark Hughes last season, after becoming a fans' favorite the previous season when signed by previous manager Sven-Goran Eriksson.
"It's a big year for Elano, a World Cup year," Hughes told reporters.
"Obviously he wants to stay in and around the Brazil national squad. The guarantee that he would play week in week out wasn't there for him and I think that was key to his decision to leave.
"He's moved on and it's a good deal for the club and a good deal for him as well by all accounts. We wish him well."
Meanwhile, Everton have confirmed they have rejected Manchester City's latest offer for England defender Joleon Lescott.
Top 20 summer transfer targets
City contacted their Premier League rivals with an increased bid of £18 million ($29.7m) for the center-half -- but Everton turned down the bid.
A statement on the official Everton Web site said: "We can confirm we have received an offer of for Joleon Lescott from Manchester City and that offer has been rejected outright."
Don't Miss
Hughes is keen to sign one more defender as the final piece of his jigsaw this season, with Lescott identified as the player to partner latest signing Kolo Toure, who completed his £16 million ($26m) transfer from Arsenal on Wednesday.
Toure was presented to the media on Thursday and revealed his transfer had been on the cards for six months.
"There was some talk about coming here six months ago," said the Ivory Coast international. "I did not want to leave England, even though other teams came in for me, but it was important not to leave for me and my family.
"Manchester City are a really good team and want to do something big in the future. I am really delighted to be here, the future is good."
E-mail to a friend