(CNN -- Arsenal manager Arsene Wenger has confirmed that experienced central defender Kolo Toure is set to leave the English Premier League club as talks continue over a possible move to Manchester City.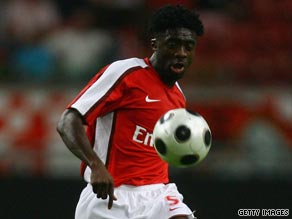 Toure is the final member of Arsenal's 2004 Premier League title-winning squad still at the club.
Ivory Coast international Toure, who played for Arsenal in a pre-season friendly in Hungary on Monday, is the latest player being lured to big-spending City, with a £15 million ($25m) transfer set to be completed by the end of the week.
Wenger admitted to the club's in-house TV station that a deal was looking immenent.
"Nothing is decided yet. We have seven center-backs and I am in the position where I have to play some in midfield.
"But of course Kolo is a very good player and we will see what will happen in the next 24 hours."
Top 20 summer transfer targets
If Toure does sign it would take City manager Mark Hughes' spending close to the £100 million mark -- and he is thought to also be keen on Everton defender Joleon Lescott as well.
Don't Miss
Arsenal by contrast have made just one signing, central defender Thomas Vermaelen from Ajax, and have also sold Emmanuel Adebayor to City for £25 million ($41m).
Meanwhile, Wenger hinted that he will make more signings before the transfer window closes. He added: "I am more focused on getting everybody fit for the start of the season but we are looking at opportunities as well.
"There are still some pre-season games to see what we really need. When the time comes we will do something."
Toure is Arsenal's longest-serving player and is the last member of the 2004 'Invincibles' side -- who went through the 2003-2004 season unbeaten on their way to winning the Premier League title -- still at the club.
E-mail to a friend