(CNN) -- Chelsea and England captain John Terry has confirmed he is "totally committed" to the Premier League side, despite big-spending Manchester City attempts to lure him away from Stamford Bridge .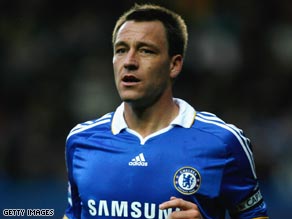 Terry has confirmed he will remain at Chelsea despite repeated interest from Mamchester City.
Terry, 28, has responded to persistent reports linking him with a transfer by releasing a statement on the club's official Web site in which he insists he has never contemplated leaving the London side.
The statement said: "There has been a lot of speculation recently about my future and I want to clear this up once and for all.
"I am totally committed to Chelsea and always have been. Chelsea have also made it clear to me consistently that there was never any intention to accept any kind of offer.
"When you are linked with any club, or with a manager who I have huge respect for, it will always make headlines -- but me leaving Chelsea was never a possibility.
"I know there has been comment that I should have made a statement earlier. However, throughout this period there have been numerous discussions between myself, the owner and the Chelsea board and we all agreed that the timing of any statement would suit everyone involved in those talks, not any outside influences or agendas.
"What is clear to me following those discussions is that Chelsea's ambition remains as high as ever. This has been further proved by the appointment of Carlo Ancelotti. I am certain he will take this club onto the next level.
"Another important factor was knowing that Chelsea would be securing key current players for the long term.
"The strengthening of the squad around this core of players is crucial to pushing us onto greater success," added Terry.
E-mail to a friend