(CNN) -- Arsenal's pre-season preparations suffered a blow on Tuesday when midfielder Samir Nasri broke his leg in training.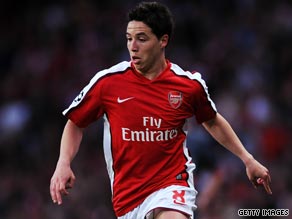 Samir Nasri has impressed since joining Arsenal from French club Marseille last summer.
The France international will miss the start of the upcoming English Premier League season, and is expected to be on the sidelines for up to three months.
The 22-year-old winger fractured a right fibula during a morning training session at the London club's pre-season camp in Austria.
He made a strong impact in his first season at the Emirates Stadium following his switch from Marseille as he took his chance in the absence of the injured Tomas Rosicky.
However, the Czech international is now almost ready to return to regular first-team contention, having played his first game for the club in 18 months against lower-league outfit Barnet last weekend.
Arsenal manager Arsene Wenger had earlier called on the club's fans to support his existing playing squad ahead of the new campaign, following the $41 million departure of Togo striker Emmanuel Adebayor to EPL rivals Manchester City.
"The message is to trust the players that we have," the Frenchman told Arsenal's official Web site.
Don't Miss
"This is a very big season for us, but I believe that we are in a very strong position. Big clubs have lost big players before.
"For example Milan has lost Kaka and yet Milan will go on. Arsenal have lost big players in the past and still continued at the top level.
"There are positive messages as well from the summer. Remember players like Van Persie and Fabregas have stayed here after being announced away.
"So I feel we have a big enough squad to deal with the targets that we have."
Wenger has recently admitted his interest in Bordeaux striker Marouane Chamakh, but the Morocco international is losing hope over any possible move to Arsenal.
"I don't really believe it much any more," he told French newspaper L'Equipe.
The 25-year-old believes it is more likely he will join Tottenham, Sunderland, Blackburn or Fulham in England.
"My bosses are trying to convince me to stay," Chamakh said. "But for me, it's a risk that I'll take. It's my dearest wish.
"My head is in England. We're talking about my first transfer, I didn't know anything about all the problems that this could pose. I'm having bad nights at the moment."
E-mail to a friend

All About Samir Nasri • Tomas Rosicky • Arsene Wenger • Emmanuel Adebayor • Arsenal FC • European Football