(CNN) -- David Beckham says he is still fully committed to the Los Angeles Galaxy but will not give up on his dream of playing for England in the 2010 World Cup finals in South Africa.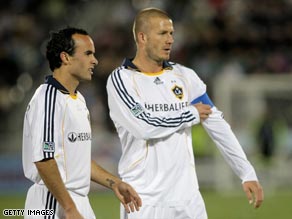 Beckham says he has made his peace with Galaxy teammate Donovan (left).
Beckham has been criticized in the United States for going out on loan to AC Milan, missing the start of the MLS season, but on the eve of his return to action with Galaxy took the opportunity to put the record straight.
"I was given chance to play for one of the biggest clubs in the world (AC Milan) and still be contracted to my club," he said.
"If you ask any player in the world if they were given a chance to finish the season with one of the biggest clubs in the world, they would not turn it down."
Beckham, who has a deal with Galaxy until 2012, said that he had every intention of honoring his contract.
"I'm an honest person, if I didn't want to be here I wouldn't. I've always been committed to every contract I've had as a soccer player at Manchester United, Real Madrid and the Galaxy," he added.
But the 34-year-old midfielder could not hide his desire to be part of Fabio Capello's England revolution with his national team on the brink of qualification for next year's finals.
And he again left the possibility of a return to a Premier League club on loan if he did not return to Serie A with Milan.
"At the moment my priority is with Galaxy for the rest of the season and playing and keeping in every squad for England and representing my country.
"Leading up to the World Cup, the England manager (Capello) has made it clear to me that I need to be playing at European club level, so I will do everything possible to make it happen."
Beckham, who will return for the Galaxy in Thursday night's game against New York Red Bulls, also said he had made his peace with teammate Landon Donovan who had publicly questioned his commitment to the MLS.

"We sat down, went through everything, went through everything that had been said," Beckham said
"Landon apologized, and I told him my view on things, and it's forgotten about."
E-mail to a friend